---
Skyrail feels like you're flying over the trees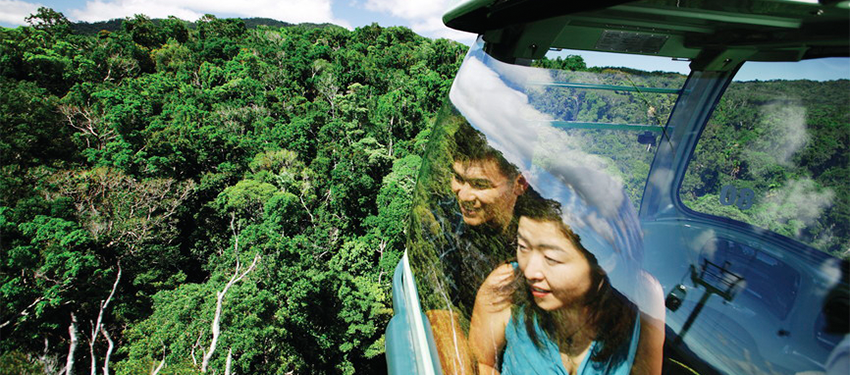 September 19, 2016
One of the opportunities Down Under Tours Australia offers is the Skyrail Rainforest Cableway. This unique cableway has been called the world's most beautiful rainforest experience and it is easy to see why. Spanning 7.5 km and the McAlister Range through the Barron Gorge National Park, Skyrail was a world first in environmental tourism. It has won a long list of tourism and environmental awards including Platinum Earth Check Accreditation, National Award for Excellence in Sustainable Tourism and Climate Action Innovator to name a few.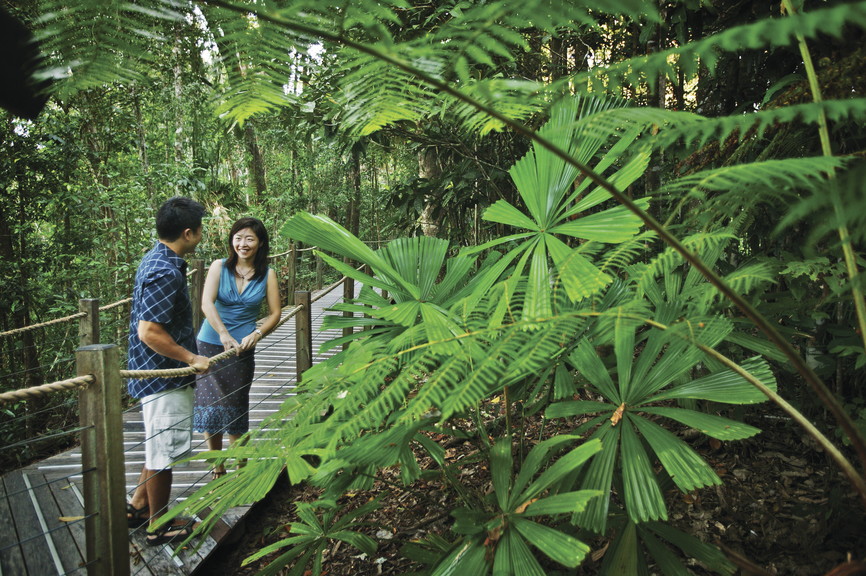 There is no need to worry about lining up to purchase tickets because everything is already done for you when you book with Down Under Tours. Every boarding pass, ticket and all the information you need including a map is provided in your itinerary. Down Under Tours even allows time for you to stop at the two Skyrail stations and learn more about the World Heritage Listed Rainforest that surrounds you. There is even a guide available throughout the day to answer any questions and guide you along the Red Peak boardwalk. You can also visit the Rainforest Interoperation Centre that was developed with the CSIRO (Commonwealth Scientific and Industrial Research Organisation)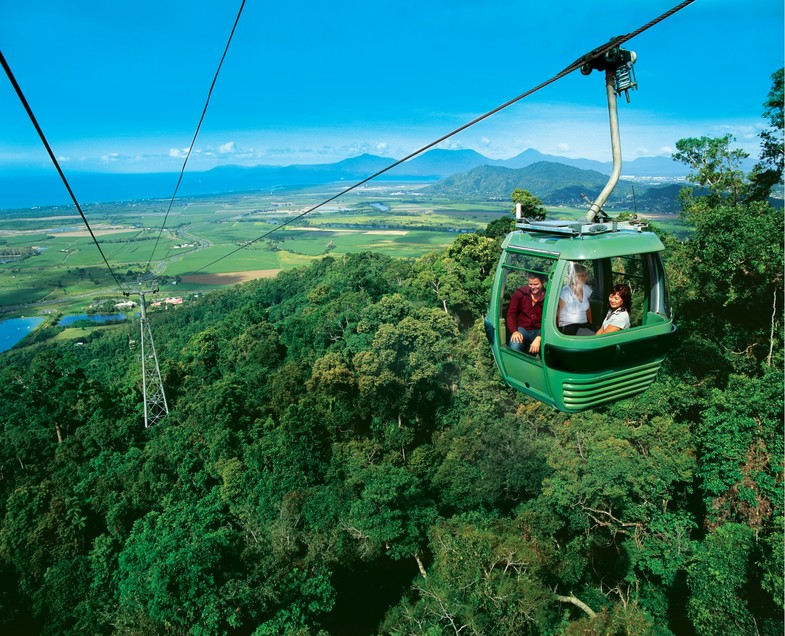 To preserve the oldest continuously surviving rainforest in the world, great care was taken during construction of the Skyrail Cableway to ensure endangered and rare species would not be affected. The towers were built in 10m x 10m2 clearings only accessible by foot and the building materials, steel and concrete was delivered via Russian Kamov helicopters. All of this was done to give sightseers a bird's eye perspective of the rainforest canopy in gondolas capable of seating up to six people.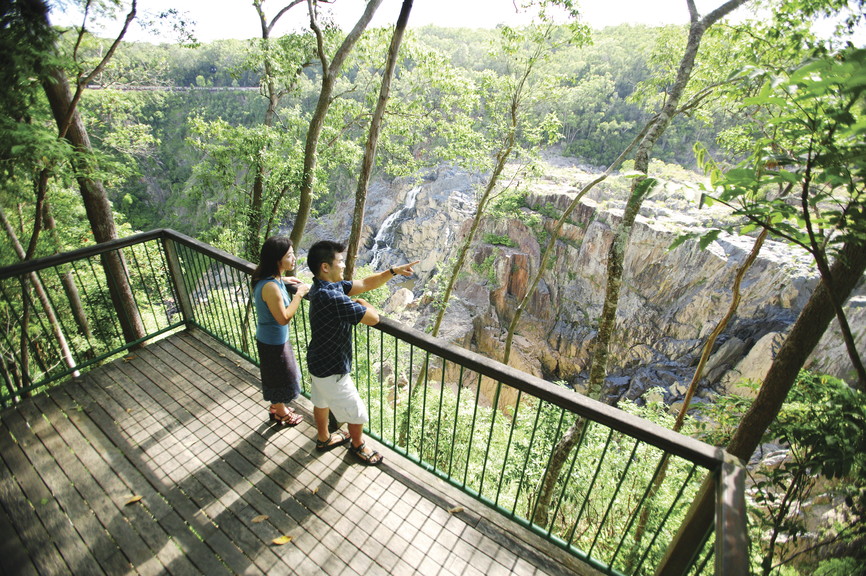 Opened to the public August 31st 1995, Skyrail has been upgraded several times to improve this amazing experience and add more gondolas including Diamond View glass floored ones. Sensational views of the rainforest, Barron Gorge and the spectacular Barron Falls are just part of what makes this experience one not to be missed. Taking about an hour and a half you skim over the treetops peaking at an elevation of 545m above sea level. There are heaps of photo opportunities including spectacular views of Cairns and the coastline out to the Coral Sea just outside of the Smithfield terminal.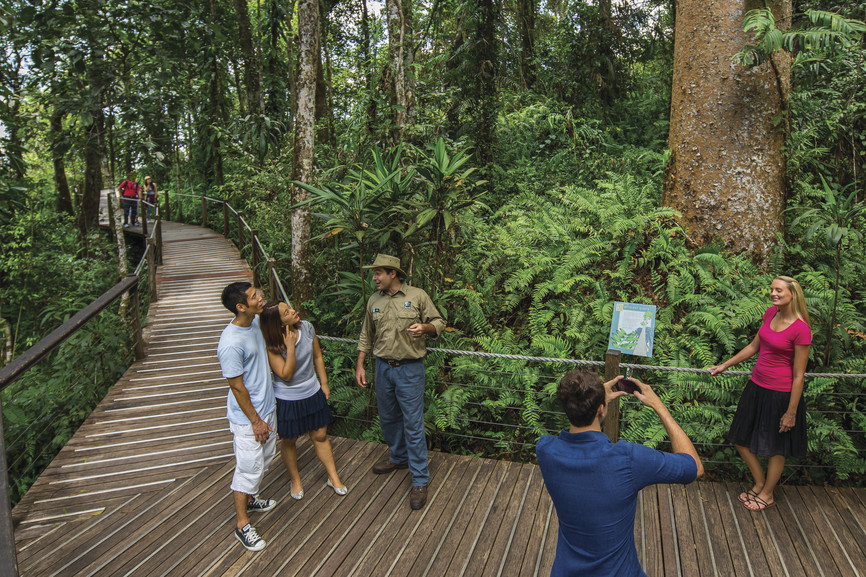 Down Under Tours have several great tours to choose from and many of them include Skyrail and Kuranda Scenic Railway in conjunction with a Kuranda day trip. Whether you are taking the Skyrail Cableway up to Kuranda Village, down to Cairns or both ways, be sure to bring you camera or phone and take plenty of photos. Most rainforest experiences involve being on the ground where as Skyrail provides uninterrupted views of the Rainforest canopy, surrounding mountains and the spectacular Barron Gorge and falls. During the wet season Barron Falls swells to several times its normal size making this 125m drop, tiered waterfall a truly impressive sight.
Some visitors choose to return over and over again as there is always so much to do and see. Don't miss out on this world class attraction and call Down Under Tours Australia to book your Skyrail experience today.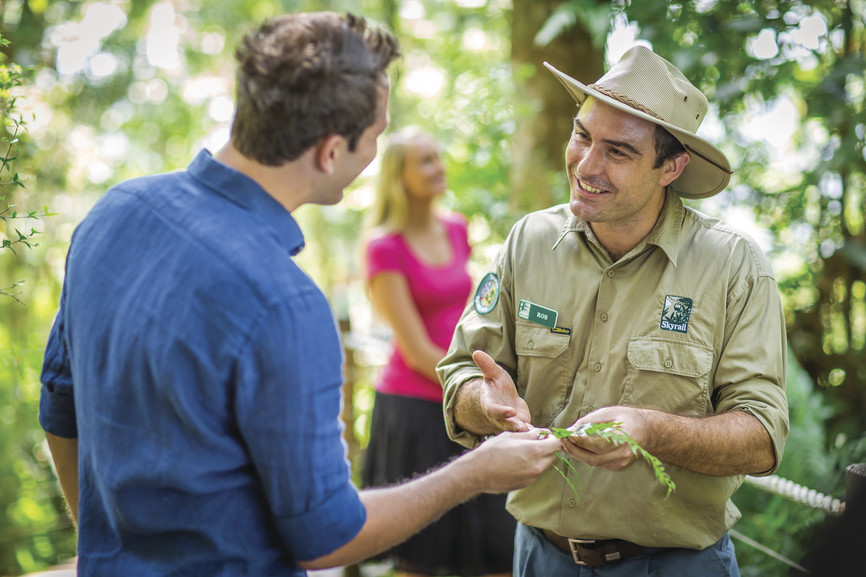 This is what one visitor had to say about their Skyrail experience:
"Feels like you're flying over the trees. What a wonderful way to see the rainforest. The cableway stops in the middle to change cars but you can have a rest by walking around the path through the rainforest and then get back on the cableway to finish your journey". (Visited April 2016)