---
Our Vehicles
Largest fleet of coaches available for hire in Cairns
Down Under Tours sets itself apart from our competitors with superior vehicles and exceptional customer and client service. Our fleet of  modern, luxury vehicles ranges from small 20-seat buses to 53-seat touring coaches and includes 2 specialised wheelchair-equipped vehicles.
Boasting one of the highest quality, modern, and diverse fleets in Australia, Down Under Tours is sure to have a vehicle to suit your every charter need!
Safety is more than a seatbelt
With our own fully certified workshop on site we undertake a preventative approach to coach maintenance reducing the likelihood of a breakdown.
To ensure maximum safety and efficiency when it comes to bus transport , Down Under Tours has installed Australia's most advanced GPS Tracking  & Driver Performance Monitoring System in every vehicle.  The system provides live GPS Tracking along with Realtime alerts direct to our operations team reporting on hard driving such as breaking, acceleration and cornering.
Take a look below for more information on our coach fleets vehicle  specifications
Our large coaches are all Australian built Denning Phoenix vehicles manufactured in Brisbane. Available for coach hire with our experienced local driver guides behind the wheel.
These 5 star vehicles feature matched outer livery with a luxurious interior design of Italian Leather Seats and Hardwood Timber Floors.
With superior underneath storage designed to accommodate 53 large suitcases and overhead storage for hand luggage.
Equipped with guide microphones and high quality clarion sound system to ensure guests seated in the rear of the coach experience crystal clear sound.
All new coaches are equipped with WiFi on on board as well as USB charging points.
Comfort Features
Reclining Leather Seats
Extended Leg Room
Footrests
Timber Floors
Climate Control Air Conditioning
Dark Tinted Windows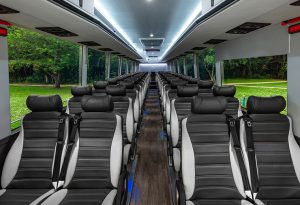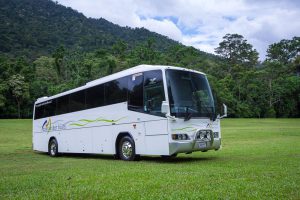 These custom built vehicles have been designed with touring in mind. Fitted with airbag suspension they have a comfortable ride even when off road and are suitable for travel on the Bloomfield Track.
Their features include reclining leather seats and extended legroom with a 2 by 2 seating plan.
You'll also enjoy the views from the large panoramic windows from seat to ceiling!
These coaches are fitted with the latest advances in audio and visual system, with guide microphones and high quality sound and also includes forward facing and monitoring cameras.
On airport transfers these buses will come equipped with complimentary matched luggage trailers.
Comfort Features
Reclining Leather Seats
Extended Leg Room
Footrests
Timber Floors
Climate Control Air Conditioning
Dark Tinted Windows with Panoramic Viewing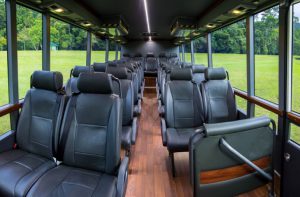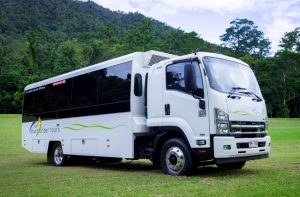 Our Toyota Coasters are all customized to ensure the utmost in passenger safety and comfort.
Featuring stylish leather and timber interior design coupled with climate control air conditioning and dark tinted windows. They also include guide microphones coupled with  premium clarion sound systems for crystal clear audio.
These buses come equipped with matched luggage trailers for Airport Transfers.
Comfort Features
Leather Seats
Timber Floors
Climate Control Air Conditioning
Dark Tinted Windows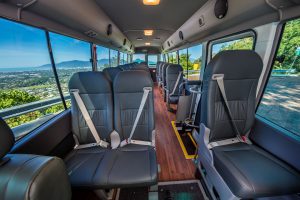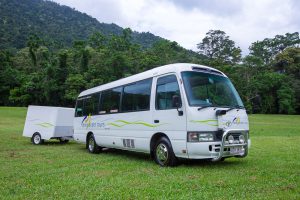 Inclusivity is important to us; we want to ensure locals and visitors to the region who use mobility aids have the opportunity to access the many beautiful locations Tropical North Queensland has to offer.
We have invested in several vehicles designed to ensure our guests who use mobility aids can travel alongside their companions.
This coach features a hydraulic lift to accommodate guests using wheelchairs or mobility scooters.   Designed specifically with a side loading ramp to allow the coach to also tow a luggage trailer, which can assist with transport of other mobility aids such as personal lifts etc that cannot be carried inside the vehicle.
This coach can be used as a standard 19 seat vehicle or be reconfigured to provide space for 4 Wheelchairs + 12 coach seats.
Our luxury private touring sedans have been chosen for maximum comfort and style.
Available for private touring throughout the region – ensure your clients discover the beauty of Cairns & The Great Barrier Reef Region in complete comfort.
Explore our private touring itineraries with options available for custom touring or choose from ready made itineraries,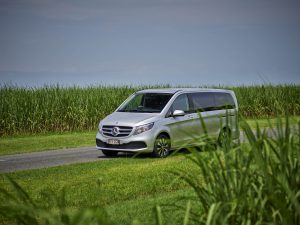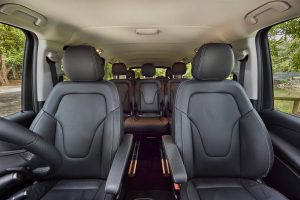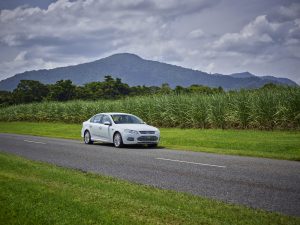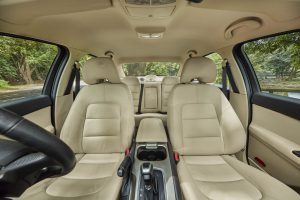 Our people
We believe 'Our people make the difference'  the quality and professionalism of our local driver guides sets us apart.  Our drivers are all passionate local guides able to delivering fun and engaging commentary whilst taking you safely from A to B.
All of our driver guides complete pre-shift blood alcohol testing and hold QLD Drivers Authorisations,  QLD Blue Cards and are regularly trained in First Aid.
Large Coach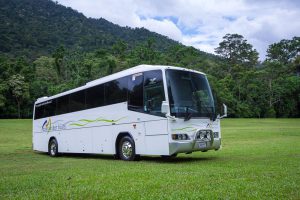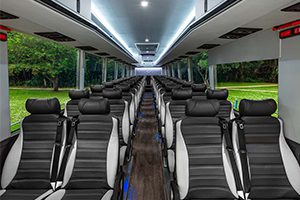 Mid Size Coach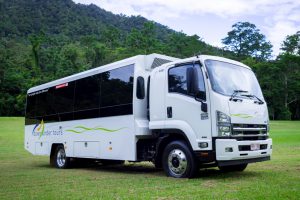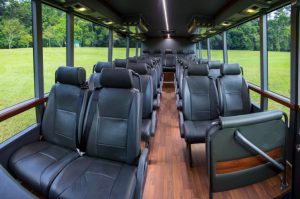 Small Coach