---
Meeting Furry Friends in Cairns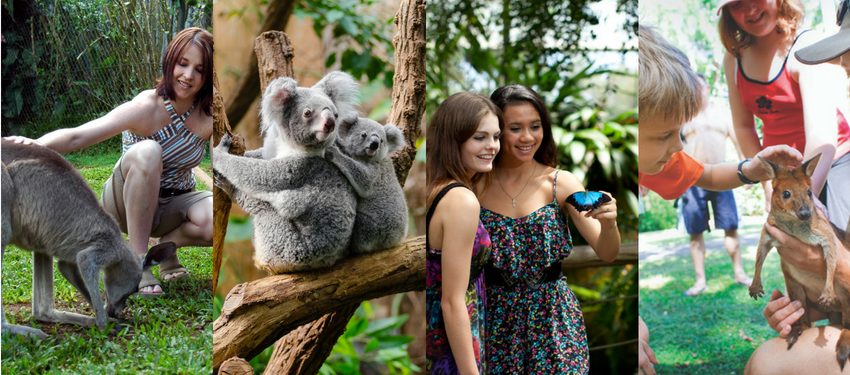 July 30, 2018
Australia is well known for its amazing wildlife – from cute and cuddly Koalas, to the awesome but terrifying Saltwater Crocodile. We are home to so many animals that can only be found on our beautiful shores. Being in the tropics, Cairns is the perfect habitat for many unique tropical animals that make their homes only in Tropical North Queensland. Visiting Cairns and want to get up close and personal with some of our furry, feathered or scaled friends? We've put together to best places to visit if you want to learn about Australian wildlife and see them up close! Make sure to bring your camera wherever you go because there will definitely be LOTS of photo-ops you won't want to miss!
Open from 8:30am to 5pm every day except for Christmas Day.
Hartley's Crocodile Adventures is THE best place in FNQ to see awesome Saltwater Crocs! There are five Lagoon Boat Cruises daily where you can cruise along the river to see Salties in a purpose-built environment to learn about their important role in the ecosystem, watch their behaviour and appreciate their capabilities and raw strength. There are a whole range of shows daily to watch and learn about the Australian animals – from croc feeding, to koala feeding, snake shows and Cassowary feeding, there is a whole range of events to fill a whole day with amazing creatures. You can get a photo holding a koala, a python or small croc, or if you're brave enough, you can even pole-feed a Saltwater Croc yourself! Located 40km north of Cairns / 25km south of Port Douglas, Hartley's is a great way to spend the day learning about animals and the intricate eco-systems they live in. You can travel to Hartley's with Down Under Tours (see our options here!) where we will pick you up from and drop you back to your accommodation, or if you have your own car and happy to drive yourself, you can find out more information and directions here.
Open Daily from 9:45am to 4pm (except Christmas Day)
The Australian Butterfly Sanctuary in Kuranda is actually the largest butterfly flight aviary and exhibit in the Southern Hemisphere with over 1500 butterflies! These beautiful creatures are simply magical to see throughout the rain forest aviary. There is a breeding laboratory, butterfly museum and more where you can learn about their life-cycle and contribution to their environment. The main attractions here are the iridescent blue Ulysses butterfly, and the colourful Cairns Birdwing butterfly – both Tropical North Queensland's most unique and distinctive butterflies! If you're hoping to get a butterfly to land on you, be sure to wear bright colours that day for the best chance to attract a friend! When you visit Kuranda with Down Under Tours, use your Kuranda Boarding Pass to get a 10% discount on entry to the Australian Butterfly Sanctuary.
Open Daily 9am to 4pm (except Christmas Day)
With over 60 species of beautiful birds from Australia and around the world, Birdworld Kuranda is one amazing attraction! Walk through the free flying rainforest exhibit and get up close with species such as Eclectus Parrots, rainbow lorikeets, galahs, cockatoos, Amazonian Macaws and more! You can also see the elusive endangered cassowary here too! These feathered friends will want to get up close to you – just be careful with any jewellery, accessories or bright coloured little objects as they can be very cheeky taking what they like. With your Down Under Tours Kuranda Boarding Pass, you can also get 10% discount on entry to Birdworld! Click here to check out Kuranda day trip options.
Daily from 9am to 4pm (except Christmas Day)
Located on 100 hectares of rainforest, Rainforestation Nature Park is just a short 5min drive from Kuranda Village where you can immersive yourself in the Rainforest and see some wonderful wildlife. The amphibious Army Duck Rainforest tour takes you through land and the river to see fascinating plants and wildlife. They also have the Koala and Wildlife Park where you can see even more wildlife such as the endangered cassowary, koalas, wombats, lace monitors, snakes, a Tasmanian Devil, Dingoes and more! You can also hand-feed the free-roaming wallabies and kangaroos in the park where is definitely an experience to remember! You can book a day trip to Kuranda including Rainforestation with Down Under Tours – just click here to find out more!
Daily from 9am to 4pm (except Christmas Day)
Located near the Heritage Markets in Kuranda Village, Koala Gardens is an easy place to visit some Australian wildlife on your day trip to Kuranda! See some of the favourites like the cuddly Koala, kangaroos, wallabies, wombats, reptiles and the saltwater croc! You can even get a photo cuddling a koala (extra cost). If you've only got a short time in Cairns, combine a Kuranda day trip with visiting Koala Gardens to tick some animals off your list. You can use your Down Under Tours Kuranda Boarding Pass to get 10% off your entry – click here to see Kuranda day trip options.
Daily from 8am to 5pm (except Christmas Day)
Visiting Port Douglas and want to see some animals? Wildlife Habitat is the place for you – cuddle a koala, handfeed kangaroos, see crocodiles and more! You can make your own way around the park and join in on daily feeding tours and presentations as you wish. Presentations include Bird Interactive Experience, Rainforest & Cassowary Feeding, Wetlands Feeding tour, Koala presentation, Tree Kangaroo tours, reptile experience and more! Be sure to check their daily schedule and plan you day around what you want to see – try to definitely catch the Koala Feeding as these marsupials sleep most of the day, so this is the best time to make sure you see them awake! You can also get a re-entry pass from the front desk to use for the next 4 days after your visit! Find out more information on their website by clicking here.
Daily 9am to 6:15pm (except Christmas Day) – last entry cutoff 5pm. New Years Day opens at 10am-6:15pm.
Cairns ZOOM & Wildlife Dome is located in the heart of Cairns City – right at the top of the Reef Hotel Casino. You can visit just the wildlife dome or add on some high ropes, climbing or jump activities to your visit! They are home to a number of Australian animals including Koalas, Sugar Gliders, Green Tree Frogs, Cockatoos, Kookaburras, Crocodiles and more! Learn about these amazing animals and catch the daily presentations to maximise your experience here. This is the perfect way to see some wildlife right in the middle of the city. Find out more information and pricing by clicking here.
Open daily – 9am-5pm
The perfect place to see Australian water life without getting yourself wet! Cairns Aquarium opened in 2017 and offers a unique look into Australia's Wet Tropics ecosystems. Going through wildlife in habitats such as: river systems, creeks and streams, waterways and billabongs, tropical rainforest, forest floor, life in the mangroves, Great Barrier Reef and its dangers, the Coral Sea, ribbon reefs, and under the pier. Make your own way through the aquarium learning as you go or plan your visit around the daily talks and presentations scheduled to get a deeper insight into sustainability and the life-cycles in these ecosystems. Located right in the heart of Cairns City, click here to find out more information.