---
How Far Is Kuranda From Cairns?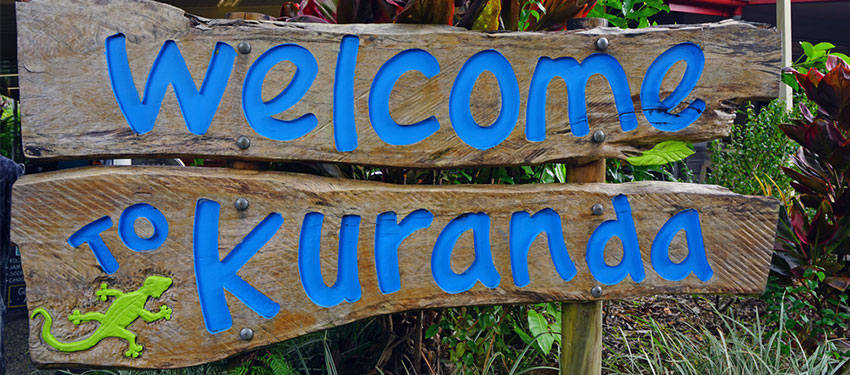 January 15, 2018
Only a short 13.4-kilometre drive from Cairns, you can find the perfect place to spend a day after a relaxing trip on the scenic Skyrail. Instead of driving the 27 kilometres to Kuranda yourself, you can enjoy breathtaking scenery on your way to Kuranda Village. Just park your vehicle in the Skyrail lot, then head to Freshwater Station to check in.
Exquisite Views, Adventure Awaits
During your nearly two-hour trip, you'll see stunning views of jagged ravines, pristine rainforest, and gorgeous waterfalls. Set within the rainforest, your destination—Kuranda Village—promises new adventures.
Kuranda's Famous Heritage Markets and Nature Parks
Browse through the daily Heritage Markets for a unique souvenir of your trip or a gift for someone special. There, you'll discover handcrafted souvenirs made locally, art, jewellery, exotic gemstones, and clothing. Hand-carved boomerangs with symbols of Australia's indigenous culture are a tourist favourite.
Or, skip the shopping and explore the Australian Butterfly Sanctuary, the village's charming Koala Gardens, or Birdworld—home to exotic birds that will captivate you with their beauty. Whatever itinerary you choose, don't miss lunch at the market's highly rated Frogs Restaurant. Eat on the verandah and enjoy views of the forest just outside. Fresh local produce, wild-caught barramundi and prawns will delight your taste buds. If your tastes run to the exotic, try a platter that features kangaroo, emu, and crocodile meats.
On the Way Back, Barron Falls and Red Peak Feature Panoramic Views
After a couple of hours, you'll board the Skyrail Rainforest Cableway to return to the Smithfield Terminal. On your way back to your car, you'll travel through the near-magical rainforest, with stops at Barron Falls and Red Peak stations, both of which feature lookouts with panoramic views.
If you visit during the wet season, you'll see mighty waters that cascade down steep tiers through sharp rocks. During the dry season, the falls are just as lovely. With only a bit of water flowing through, thanks to a hydroelectric plant that supplies the area's electricity, you can see the rocks in all their majestic beauty. When you stop at Red Peak Station, be sure to take advantage of the complimentary guided tours on the boardwalk.
Even today, the railway itself is a tribute to human ingenuity and superb engineering. Built in the late 1800s, the Cairns-Kuranda Railway features 15 hand-carved tunnels and 37 bridges as it winds its way through the rainforest. As you travel, you can hear a commentary that tells about the various sights along the way.
Of course, you could drive yourself to Kuranda—but then you'd miss the train and Skyrail experience—a once-in-a-lifetime journey tourists rave about as 'amazing.' For your unforgettable Kuranda experience, book a tour with the knowledgeable travel professionals at Down Under Tours today.