---
The world's best surf spots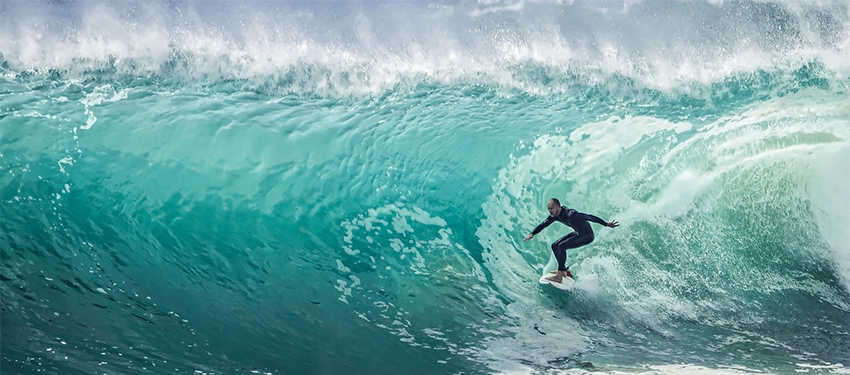 January 29, 2020
Oh, for the surfer's life – sunshine, beautiful beaches and enough challenge to keep you amused for years. 
Not many of us have the time (or the skills!) to do it full time. However, that shouldn't stop you seeking out the very best surf locations around the world next time you go on your holidays. Surfing is a popular attraction pretty much anywhere you find yourself near the sea. Come rain or shine, you're likely to spot surfers up early in the morning catching the first waves of the day.
Coast to coast globally, there are thousands of surf spots to explore. We've rounded up six of the very best. Here is our surfer's bucket-list guide. 
Let's make some waves! 
Queensland, Australia
In Queensland, there's plenty to do. Whether it's chilling by the beach, visiting rainforests or surfing- there is something for everyone.
Also referred to as The Sunshine State, Queensland's coastline borders the Pacific Ocean for a huge 6,973 kilometres! In particular, The Gold Coast (with it's aptly named centre 'Surfers Paradise') and The Sunshine Coast are hotspots for surfers- be they local or visiting from afar. Further north the Great Barrier Reef starts where the surf stops and attracts approx 2 million visitors per year. The area alone is greater in size than the UK, Holland, and Switzerland – combined.
San Sebastian, Spain
Europe probably isn't on most people's radar when it comes to key surf locations. They're missing out, however. 
San Sebastian is not only stunningly beautiful but also perfectly located to catch the best and biggest of the Atlantic waves. Head further down the Spanish coast to discover miles of golden sandy beaches – the kind that few surfers hope to dream about. 
Of course, don't forget to sample some of the incredible food whilst you're in town.
The Big Island, Hawaii
View this post on Instagram
We couldn't talk about surfing without mentioning Hawaii. It's the place where surfing was born and their original surfers named their new pastime 'wave sliding'. Legend has it that a long wooden surfboard was first used by locals travelling to and from islands. It had a rich cultural history in ancient Hawaii then revived itself again in the 20th century.
Nowadays, the waves in the Polynesian islands are a tourist favourite. Who wouldn't want to experience the excitement of wave sliding where it all began?
Phuket, Thailand
View this post on Instagram
Between partying and eating delicious food by the beach, Phuket in South Thailand has loads to offer. The surf scene is rapidly growing and there are an increasing number of popular surfing competitions around September – the peak of the surf season. If you're new to surfing, there are many welcoming locals that will happily teach you the ropes.
Santa Cruz, California 
It's no surprise California is on this list. It's simply the place to be for surfing – it's a way of life on the West Side! SoCal (Southern Californian) surfers have lit the world on fire with their punk attitude and cool lifestyle.  
Santa Cruz, otherwise known as the 'surf city' has many places to learn or practice your surfing. The waves differ but they pretty much always remain epic. Pleasure Point is the hottest spot in the area due to its authentic surfing atmosphere. The local surfers are carefree as ever, making it a great place to relax and watch and/or ride the waves.
If beach holidays aren't your thing – and let's be honest, they're not everyone's thing – make sure you check out our Daintree Dreaming and Cape Tribulation tours. You'll have a fantastic time.