---
The Best Beaches in Cairns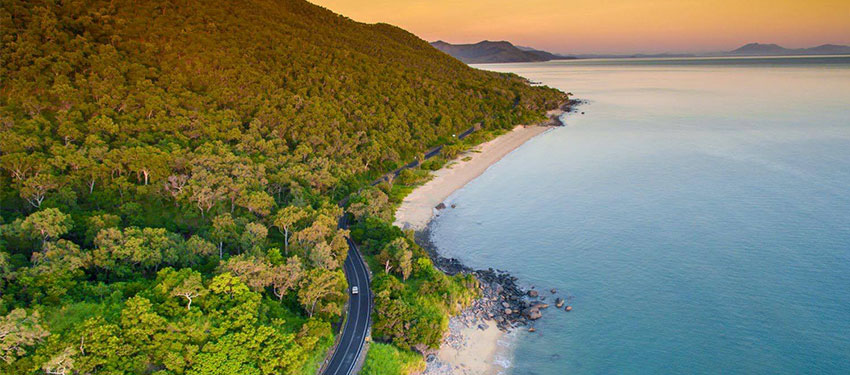 February 5, 2018
Somewhere between the rainforest and the Great Barrier Reef lies Cairns, whose beaches are among the finest anywhere in the world. The beaches near Cairns are great for a relaxing day with your family and some fun activities in the local area. Starting from just outside the Cairns CBD and working our way north, here's what you need to know about each beach:
Machans Beach
Machans Beach is perfect if you are looking for a beach that is easily accessible from Cairns. This beach provides ample space for a rousing game of footy, especially at low tide, when you can walk out on the sand for what seems like forever. Culturally, it's a real nest of bohemian activity with a prominent hippie scene. There are plenty of opportunities for great nights out for party animals.
Holloways Beach
Like Machans, Holloways is a residential beach. Unlike Machans, it has a growing resort that is the envy of most others along the coast. There are some lovely secluded spots around this place that are perfect for a romantic getaway. Holloways is one of the few Cairns beaches with stinger nets, so be sure to stay inside them during jellyfish season.
Yorkeys Knob
This beach is a real catch for those who like a little variety on their days at the seaside. It's located just 15 minutes from Cairns, so it is easily within reach. This little jut of land is home to a large kite-surfing community, not to mention the Half-Moon Bay Golf Club, which provides a great chance for sport and a camera-worthy view of the Great Barrier Reef below.
Trinity Beach
This beach is a local favourite. Beautiful, tree-lined stretches of coastline with warm, blue water and an absence of overbearing chains and commercial tourism make this a getaway that doesn't feel touristy. Catamarans run regularly to destinations like the Great Barrier Reef, so if you want to strap on an oxygen tank and get some diving done, this is the spot. The beach itself enjoys a year-round safe status, making this one of the best Cairns beaches for swimming.
Kewarra Beach
Located 20 minutes north of Cairns, Kewarra Beach is more popular with locals than with tourists. You should have no trouble finding a spot on this long strip of unspoiled sand. There are dozens of rocks and pools worth exploring, and the water is beautiful and clear. Bring your kids for a fun adventure.
Clifton Beach
Palm trees and a lack of high-rise buildings characterise Clifton. As well as the usual activities of white-water rafting and trips to the Reef, you'll get the opportunity to go on trips to fish for marlins, a Hemingway move if there ever was one. Situated 22 kilometres from Cairns, this one isn't too far away, but getting a hotel room for a couple of nights there will give you more time to enjoy all the activities this area has to offer.
Palm Cove
A place largely made up of resorts, roughly 25 minutes outside of Cairns, Palm Cove boasts large groves of paperbark trees. You'll find a variety of activities to do in the area, including helicopter tours, sea kayaking, a spa resort and family-friendly trips to the Reef.
Ellis Beach
About 40 minutes from Cairns and with roughly 10 locals calling it home, Ellis Beach should be the go-to destination for those wanting a walk on the wild side. This far out from the city, anything goes. Camping here is a great idea, as is skinny-dipping, with a local 'free' section of the beach just around the corner. There are large numbers of jellyfish and crocodiles- as well a few cassowaries- in the area, despite regular patrols, so be sure to take precautions to protect yourself.
See Even More of the Region
As wonderful as it is to lounge on the beach all day, you'll probably want to see more of Cairns and the areas surrounding it than just the ocean. Here at Down Under Tours, we offer a variety of day tours to help you take advantage of everything the region has to offer. No trip to Northern Queensland is complete without a visit to the Great Barrier Reef, so be sure to take one of our day tours to this majestic site, like our ever popular Big Cat: Green Island Reef Cruise.
If the rainforest is more your style, try our Cape Tribulation, Daintree & Mossman tour.

Our associates will be happy to help you settle on the perfect tour to meet your needs so get in touch with us today to learn more.