---
Stinger Season in the Great Barrier Reef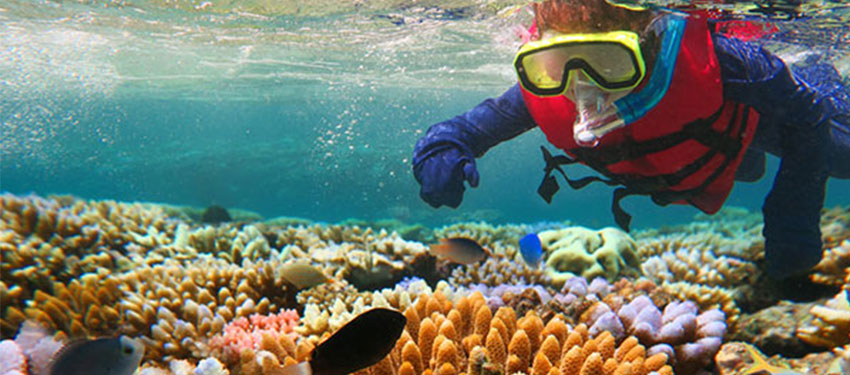 November 10, 2017
When people think of destinations they want to go to for the breathtaking views and diverse marine life, the Great Barrier Reef comes to mind. This natural wonder draws tourists from all over the world, and the hint of danger that comes with swimming in such a diverse ecosystem can be a bonus for adventure seekers.
One of the most popular times to go on a snorkel tour of the Great Barrier Reef is every year starting in mid-October and running from November through May. However, this prime snorkelling period also falls right in Stinger Season each year. Stinger Season refers to an influx of jellyfish species in and around the Great Barrier Reef, and they come to this area because of the warm, tropical waters. Since there is a rise in the jellyfish population, there is also a slightly elevated risk of beachgoers and snorkelers getting stung.
Jellyfish, also known as Marine Stingers are present throughout the entire year in Tropical Queensland, but people have snorkelled with these animals for decades with little to no incidents. While it is true that certain species of jellyfish can give very painful, and even fatal stings, reports of a killer jellyfish sting is a rare occurrence. This infrequency is due in part to the safety barriers that go up to separate beachgoers and the jellyfish, and partly due to people being respectful and mindful of other creatures that are sharing the water.
When you take a tour during Stinger Season, make sure you hire a reputable tour company that knows the area and knows the dangers. Responsible reef operators train their staff to be very thorough with each guest, and they make sure everyone is very well informed before they go into the water. Additionally, they offer everyone a range of protective lycra/wetsuits that typically cover part of your hands, neck, and come with a hood. If you choose to take this suit and listen to the tour guides, you can reduce your chances of a sting.
While you're experiencing the wonder of the Great Barrier Reef on a tour, be mindful that you're coming into the jellyfish's home and you have to treat these animals with respect. Jellyfish are not any scarier than some of the other animals you may encounter on your snorkelling adventure, and with proper precautions, you can enjoy the grace of this animal as well.
Contact us if you'd also like to explore the World Heritage listed Rainforest of the region, which together with the Great Barrier Reef make Far North Queensland a unique and memorable destination. Whether you're looking for a group or an individual day away, we can help you.