---
Sky Land or Sea? What works for you?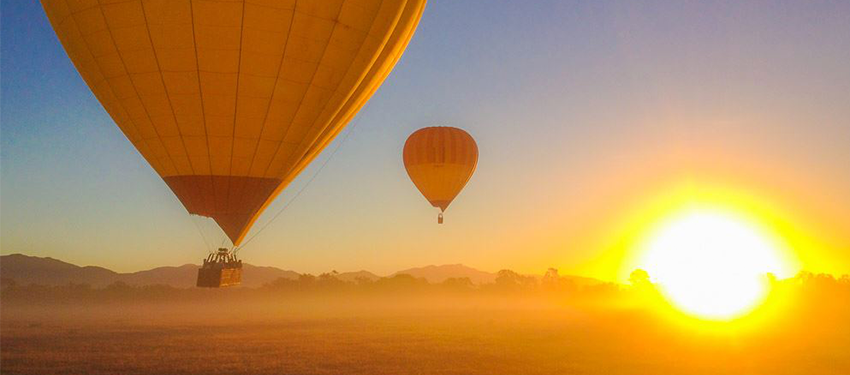 November 12, 2016
Sky
Is it a bird? Is it a plane? No, it's…. an adventure in a Hot Air Balloon!  For those seeking a thrilling experience without the adrenaline chase of skydiving then look no further than a Hot Air Balloon experience.  Your trip begins at dawn as the warm sun drifts across the rolling fields of the Atherton Tablelands.  From there, you'll be floating majestically amongst the clouds as you take in the breathtaking scenery for thirty minutes – before landing.
For those wanting an alternative to the Hot Air Balloon experience, you cannot go passed the Skyrail experience.  Paying extra for the Diamond edition is an absolute must as you are able to experience unparalleled views through not only your windows but your floor as well!  Literally walking through the treetops has never been easier as you are granted spectacular views of the mountain range, coral seas and tropical landscapes below.  Keeping your eyes peeled as you are always sure to experience something unique with your unobstructed views from tree tops to forest floors!
Land
Take the road less travelled?  Easy done if you're choosing the land option.
Just over 80kms from Cairns, the Mossman Gorge Centre – gateway to the Mossman Gorge – is a must see!  Being that it is a new indigenous tourist development, the Centre caters for everyone; with a fully equipped Cafe and Restaurant, Indigenous Art Gallery and Retail shop.  At the centre, you are also available to enjoy an indigenous presentation by the traditional landowners – the Kuku Yalanji people.
Once you've taken in the Mossman Centre, it is just a short shuttle bus ride to the heart of the Gorge to experience the majesty. No matter what you want to experience or your skill level there is a hiking track to suit your needs:
– Baral Marrjanga – a 270-meter track that takes no more than 10 minutes!  it leads through the rainforest to the majestic Mossman River Lookout Point.
– Lower River Track – a generally easy track at a total of 300-meter track that joins into the Baral Marrjanga; snaking itself alongside the Mossman River before leading to the Lookout Point.
– Rex Creek Bridge – a moderate level track at a total of 460 meters that follows the Baral Marrajanga track, and with a quick turn to the left, leads to the famous Rex Suspension Bridge.
– Rainforest Circuit – starting from the end of the Rex Creek Bridge track, the Rainforest Circuit track is the hardest of all tracks with a total of 2.4 km.  The walk is definitely worth it as it leads to spectacular views of Mount Demi.
Located approximately ten minutes on the north side of the Daintree River, do not forget to bring your camera as you experience the brilliant Alexandra Lookout!
Alexandra Lookout provides spectacular and unparalleled views of the Daintree Coastline including; Snapper Island, Low Isles, Port Douglas, Black Rock and Shipwreck bay.
After you've taken in the brilliant horizon, it's a quick connection to surrounding areas:
– Snapper Island: 7klms
– Daintree River Mouth: 4kms
– Ferry Crossing: 5kms
– Cape Tribulation: 20klms
– Port Douglas: 25kms
Sea
You can't think of the sea in North Queensland without thinking of the Great Barrier Reef!  One of the seven natural wonders of the world, the Great Barrier Reef is a treasure trove with over 2900 individual reefs and 900 islands that stretch for over 2300 kilometres.
Holding a vast ecosystem of marine life; there are vast species of whales, dolphins, dugongs, turtles and over 1500 fish species that draws countless tourists both interstate and internationally each year.  Whether you want to explore the Reef via boat, have an up close experience by scuba diving or traversing amongst the many islands – there's an option to cater to any taste.
Whether you're pulled to the call of the sea or choose to soar above majestic rolling hills – make sure you speak to the friendly team at Down Under Tours for a unique and unforgettable tour experience!  Whether you are wanting to take in one site or all three – speaking with Down Under Tours will ensure that you are able to take in the splendour of the tropics.