---
How Far Is Daintree from Port Douglas?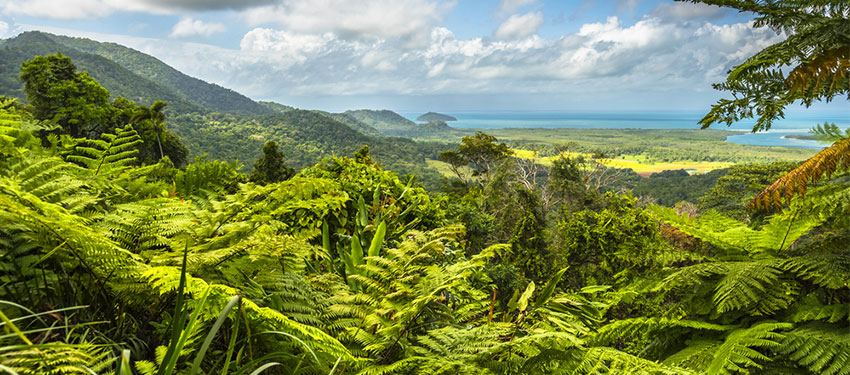 January 15, 2018
Since Daintree is less than an hour's drive from Port Douglas, many people on holiday consider driving themselves to this popular tourist attraction. But if this is you, think again. Daintree being only 55.5 kilometres from Port Douglas isn't the only factor you should consider. A guided tour might be your best bet to get the most out of your trip to this UNESCO Heritage Site—and the adjoining Great Barrier Reef, also a Heritage Site. This magical place is the only spot on earth where two Heritage listed sites meet.
Many Areas Accessible Only by Permit
The reason you should take a tour instead of driving yourself? Because these sites are so pristine—protected by strict laws to preserve their ecological balance—you need a guide with the proper permit to get you into these areas. Furthermore, with an expert guide, you'll be able to learn so much more about the diverse plant and animal life that populates this unique rainforest.
Self-Driving Tours Often Disappoint
Besides, when you drive yourself around, you won't be able to see all the sights you could if you didn't have to keep your eyes on the road. You'll miss photo opportunities, since animals won't hold still because you had to look for a spot to park your car. You'll still have to pay for petrol, car rental if you haven't driven your own car to Port Douglas, your food, any ferry fees you need to pay, and other expenses. By the time you finish, you will have probably spent as much as you would have had you taken a guided tour.
Relax and Enjoy the Exquisite Views in Air-Conditioned Comfort
Instead, why not relax and leave the driving to the pros? After all, you're on holiday!  With Down Under Tours, you'll travel in a luxury vehicle in cool, comfortable air conditioning and have a driver who isn't just a chauffeur. She or he will be an expert on the area's geographical features, historic significance, and its plant and animal life, opening up the world of the Wet Tropics for you. Journey to Cape Tribulation Beach through the Daintree Rainforest. You'll visit stunning Mossman Gorge learning from your driver-guide the fascinating secrets of one of the world's oldest tropical rainforests. Further north Cruise down the Daintree River, spotting for crocodiles and later enjoy a tropical lunch on the edge of the rainforest overlooking a crystal clear creek. You'll stroll on Cape Tribulation Beach without a worry in sight before heading back to Cairns, with a photo op from a lookout and an ice-cream stop on the way.
Tours That Turn Your Holiday into a Once-in-a-Lifetime Experience
You can also explore the Wet Tropics from an indigenous perspective with a tour featuring Traditional Aboriginal Fishing. You'll see the world with new eyes as you learn about age old hunting techniques or maybe an Aboriginal Art Class is more your style.  There are many amazing options for exploring this beautiful part of the planet!