---
Cairns to Daintree – travel the right way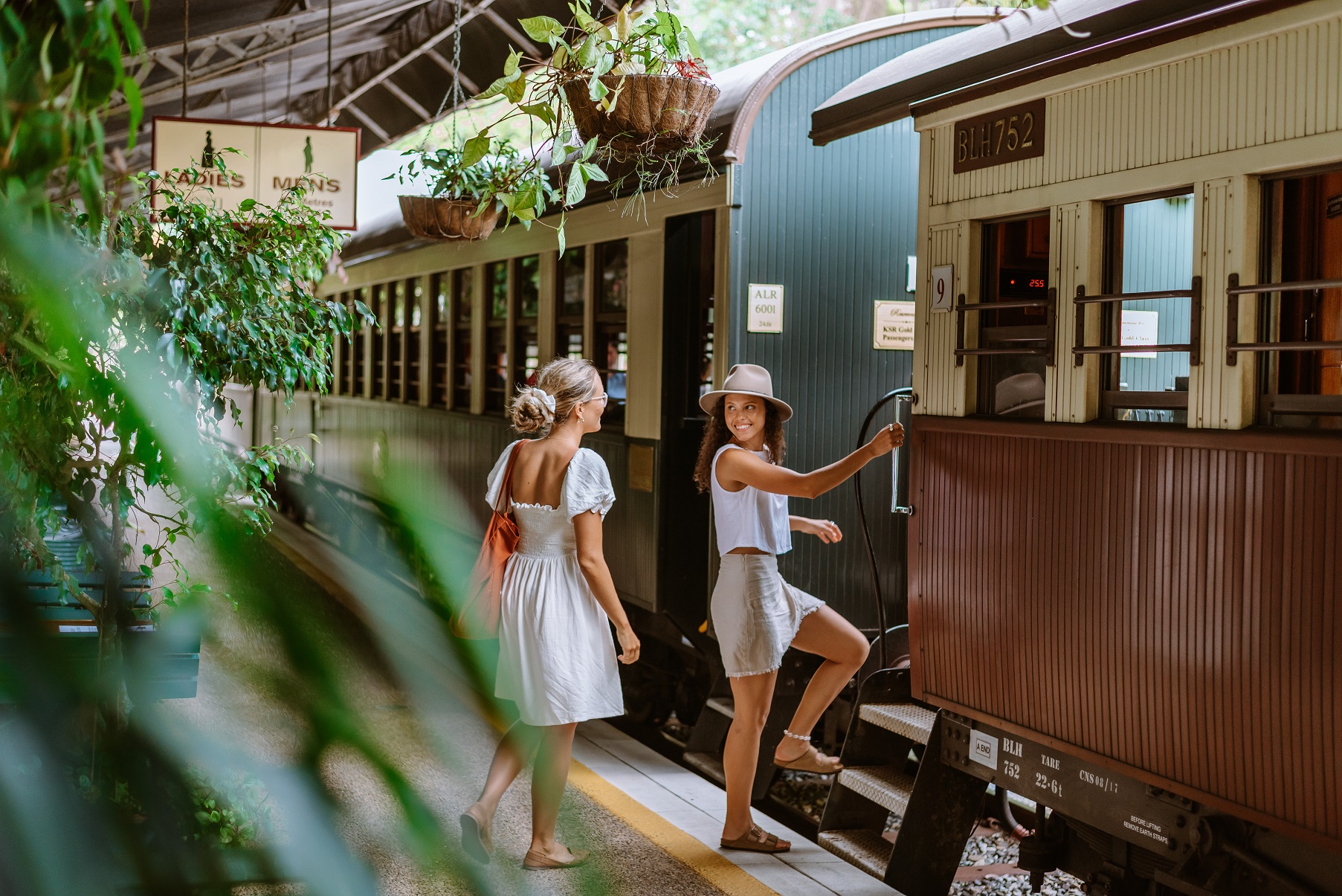 May 16, 2023
By Michael Tolevski
Cairns is a delightful fusion of perfect tropical weather, coupled with a plethora of different things to see and do. From the Cairns Botanical Gardens, where you can discover the Aboriginal Plant Use Garden or the Rainforest Boardwalk, to cooling off and taking a dip exploring the heavenly Waterfalls Circuit. You'll love Millaa Millaa Falls (the most photographed in Cairns) and Zillie Falls, which is 30m high (the tallest in the Waterfall Circuit) – look out for butterflies in this oasis.
On your to-do list, should also be a range of Cairns tours.
After you are picked up from your accommodation, you'll traverse through the twists and turns of lush, green countryside as your down under tours guide tells stories of the area, giving you insight to the area, the history, culture as well as some information about the day ahead – a seamless and effortless experience. After arriving at the Skyrail terminal, we're sure you'll barely be able to contain your excitement as you watch eager travellers move up into the seemingly never-ending skies. Once onboard the skyrail, it seems as if you have entered a utopian sanctuary surrounded by an abundance of emerald-vegetation at your front and spectacular city views when looking back. Open to the public in 1995, it is one of the world's longest continuous cableways, with the capacity to carry up to 700 people an hour. The Skyrail also stops at various points along the way, allowing passengers time to stretch their legs and take some photos at one of the many vantage points overlooking the magnificent falls. As you reach the bottom and enter the town of Kuranda, you will be pleasantly surprised at the vintage feel of this little town. Dotted with vintage stores and art galleries, and a souvenir shop where you can buy anything from Akubra's to amulets, Kuranda is an antique and art lovers paradise. For those who just want to relax after their journey up the Skyrail, there are plenty of funky eateries to choose from.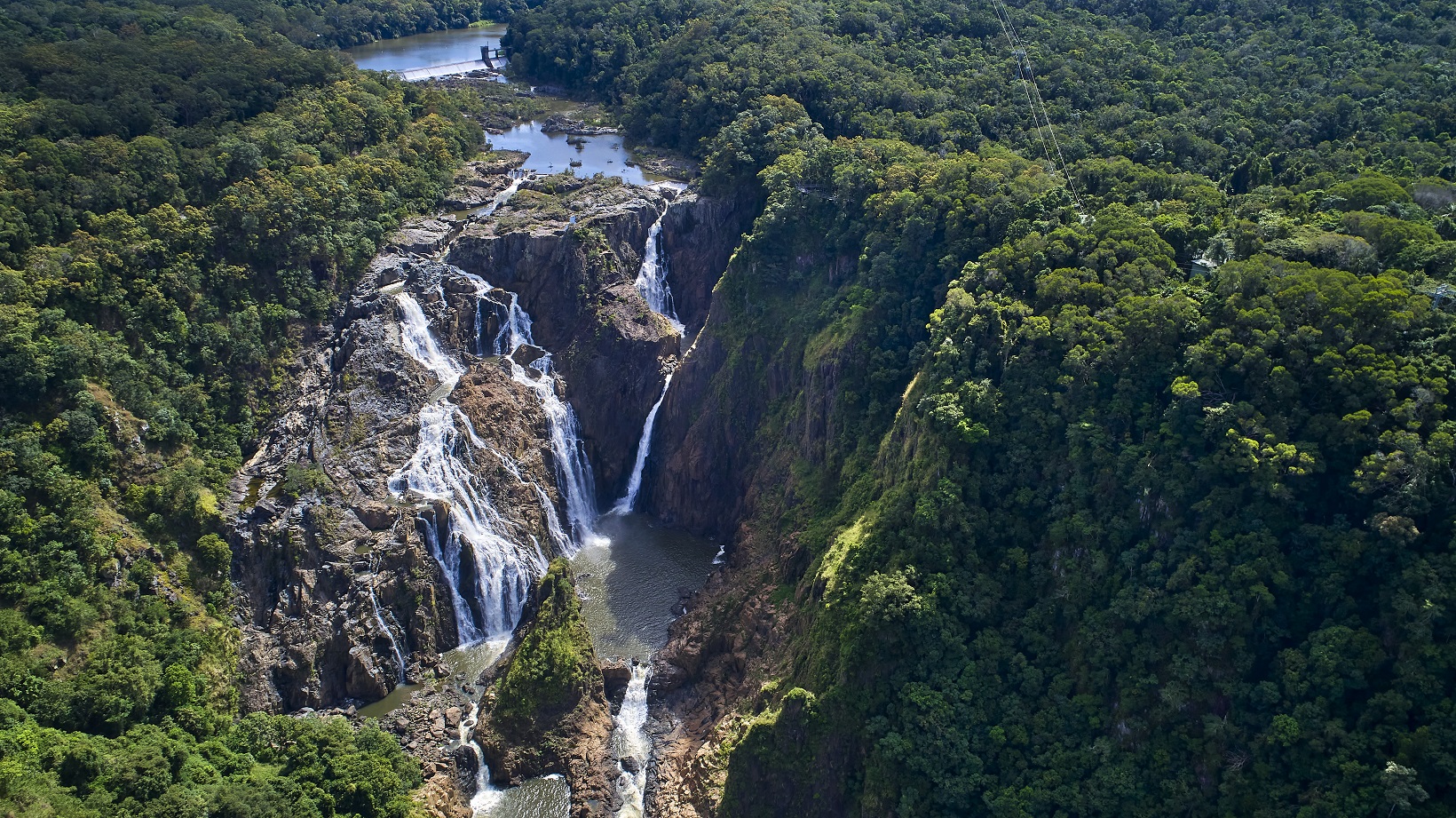 Lunch plans in Kuranda?
The stand- out among Kuranda's quirky eateries is Riley's Café & Bar. This cute café has all the classics you'd expect; from eggs benedict to the big breakfast wrap. Even arancini balls and lasagne if you're looking for a bigger meal to refuel for the second half of the day, but the real surprise comes when you walk inside. As you walk through the front, you're greeted with an undercover outdoor seating area that gives some welcome relief from the day's heat. When you pass the bar and the main indoor area, it's like you've entered a new world. You are greeted by a garden area filled with the emerald green of rainforest plans, a selection of tables sit among the ambient atmosphere for you to choose from. Here, you can enjoy your meal away from the hustle and bustle of the outside world, this is your home among the rainforest.
Scenic Railway
The second part of the day is a ride on the Scenic Railway, a charming carrier that transports you back to the glory days of rail travel. During this one-of-a-kind journey, you will roam through an ancient mountainside dotted with waterfalls and the sounds of all types of native birds.
As you're travelling through the mountainside, you can't help but admire the majesty of the environment you find yourself in. It's as if you've been transported to a far-away untouched world. Couple this with the fact that the forest is millions of years old, you feel as if this is the closest thing to paradise on earth.
All this while hearing the insightful commentary about the history of the railway and how it came to be. After disembarking the railway and arriving back to your accommodation, if you want your fabulous day to continue into the night, there are plenty of options to choose from. A walk along Cairns' Esplanade Boardwalk is the perfect thing to decompress and reflect on adventure you've had. Lined with restaurants and bars catering to every cuisine you could think of, the boardwalk is a true reflection of our multi-cultural society. Dotted with boats, the different charter operators wave, ask where you're from, and how you've spent your day; the friendly Aussie nature on full display. The boardwalk is also accessible from beginning to end, making it easy for those with limited ability to also enjoy.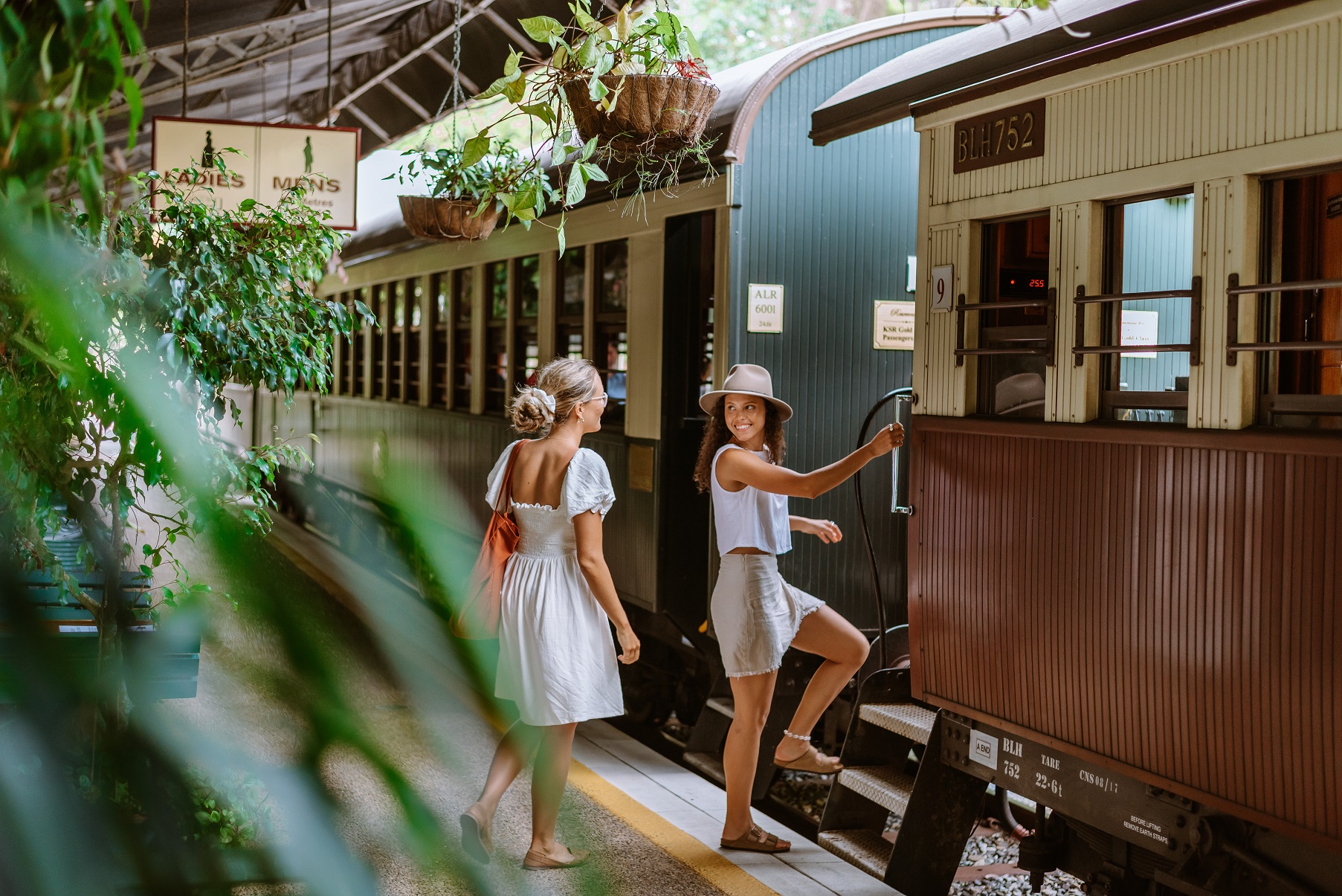 In need of dinner plans in Cairns?
Dundees at the Aquarium offers contemporary Australian cuisine, everything ranging from fresh local seafood to kangaroo steak is served up for you to enjoy. But the best part is the built-in aquarium, helping you admire exotic marine life as you enjoy a beautiful meal.
If you'd rather be exploring the city, the Cairns night markets are also a fantastic place to get a good bite. A hive of bustling activity, the markets' stall holders offer everything from Vietnamese to quintessential Australian market food.
Once you've had your fill of culinary delights, head to Hemingway's Brewery to cool off with a cold one. With locations on the Cairns wharf and Port Douglas, this modern beer garden is a quintessential slice of Australiana. With their own range of craft beers plus all the classics, this is tropical paradise's finest watering hole. Tropical North Queensland is a place that will ignite your senses and leave you feeling alive as never before. It's a place that mixes pristine natural beauty, with the liveliness and hospitality of the Australian way of life in perfect harmony. It's unlike anything you've witnessed before, a true haven on earth that will leave you yearning for more. Cairns Aquarium Image Credit: Tourism & Events Queensland