---
A Day in Kuranda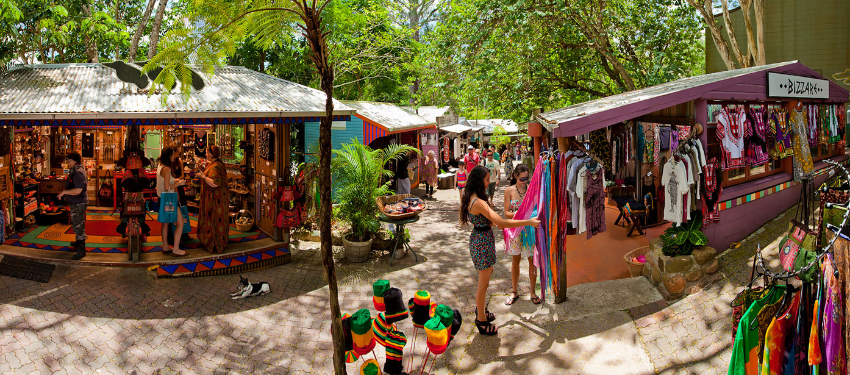 March 19, 2019
A Day in Kuranda
Affectionately known as the Village in the Rainforest, Kuranda is one of the most popular spots for a day trip in Tropical North Queensland. It's the closest and easiest way to immerse yourself in the World Heritage listed Tropical Rainforest that surrounds Cairns. Whether you drive to Kuranda or take the Skyrail Rainforest Cableway and Kuranda Scenic Rail, there is something for everyone in Kuranda.
We've asked our staff and put together a list of our favourite spots in Kuranda to help you plan your day of exploring!
Australian Butterfly Sanctuary
Located right in Kuranda, the Australian Butterfly Sanctuary is the largest butterfly flight aviary and exhibit in the Southern Hemisphere. Home to over 1500 butterflies, the Butterfly Sanctuary is magical with so many stunning species including the electric blue Uylsses, and the largest Australian butterfly, the Cairns Birdwing. A little tip if you're keen to get the perfect photo- wear red, pink or white to increase your chances of one landing on you!
View this post on Instagram
Birdworld
Head to Birdworld and immerse yourself in this wonderful free flying bird aviary; home to almost 60 species of Australia and exotic birds, landscaped to replicate their natural habitat! From vivid Eclectus parrots and cockatoos, to stunning Amazonian Macaw, Birdworld is certainly a stop to remember. Upon entry, check to see if you can purchase a small bag of bird food to hand feed the birds – they aren't at all shy so will come and land right on you! Before you head in, just made sure to secure your small items and jewellery (even remove earrings!) as these cheeky birds won't hesitate to steal something shiny that catches their eye!
Kuranda Koala Gardens
If you're keen to get close and personal with some Aussie wildlife classics, Koala Gardens is the perfect place- home to cuddly koalas, friendly kangaroos and wallabies, freshwater crocs, wombats, snakes, reptiles and more! Handfeed and pat the tame wallabies and kangaroos, or buy a souvenir photo cuddling a koala – Koala Gardens is the perfect place to get your Aussie wildlife fix.
View this post on Instagram
Rainforest Walks
There are a number of interlinked walks that weave through the tropical rainforest and Kuranda village itself. You can choose one or however many take your fancy, depending on how you want to spend your time in Kuranda. There is: The River Walk, The Jungle Walk, Jum Rum Creek Walk and the Esplanade Walk. Doing all 4 will take about 1 hour, but if you just want to do one, the Esplanade Walk will be the easiest single walk as you can access it from the top of the village to the bottom near the Skyrail & Train. Head to the Kuranda website for more walk info, or pick up a free visitor guide pamphlet when you get to the village.
View this post on Instagram
Mini Golf
Perfect for the family, this 9-hole mini golf course is in the middle of the rainforest – what a beautiful setting! Head to the Kuranda Original Rainforest Markets to find this attraction. Test out your skills here for just $5 per person!
Kuranda Homemade Tropical Fruit Ice Cream
Given the warm weather year-round in Tropical North Queensland, an ice cream is the perfect treat for some cool relief. Look for the red ice cream van near the Kuranda Markets Arcade on Therwine St and choose from a wide range of classic or fruit flavours to cool you down!
Kuranda Fudge Bar & Tea Room
For a sweet treat to take home with you, stop by Kuranda Fudge Bar & Tea Room. This little shop now has over 500 different flavours of homemade fudge! From classics to unique flavours, we think there is certainly something here to suit (or even broaden!) every taste.
Kuranda Candy Kitchen
You'll see Kuranda Candy Kitchen on the main village street if you're walking up from Skyrail and the train. Here you can see old fashioned candy making and buy some of the handmade rock candy – if you're lucky, you'll catch them even making candy so you can see the fascinating process to create this intricate patterned candy.
View this post on Instagram
Here's a couple of our favourite lunch spots in the village if you're feeling peckish in Kuranda:
Frog's Restaurant
Serving Kuranda since 1980, Frogs Restaurant has an extensive menu of delicious food to please anyone- with classics like fish and chips, pizzas, burgers and salad, and for the more adventurous: a tasting platter of emu, crocodile and kangaroo! They also have a variety of curry options, vegetarian dishes, and fresh juice.
German Tucker
Another favourite food stop from our staff is the German Tucker Wursthouse- just a little shop up the top of Kuranda serving some delish Bratwurst options either as a hotdog style or lunch set with sides.
Petit Café
Specialising in traditional French crepes, Petit Café can be found in the Original Rainforest Markets. With a wide selection of both savoury and sweet crepes- and delicious local coffee- Petit Café is certainly a crowd-pleaser with vegetarian, Vegan and Gluten Free options available.
View this post on Instagram
Whatever you choose to do in Kuranda, you are guaranteed a unique experience in this quirky little rainforest village! Make sure to explore and feel free to share your day with us on Instagram using #downundertours to show us what you got up to!