---
A Brilliant Day Out for All the Family at Hartley's Crocodile Adventures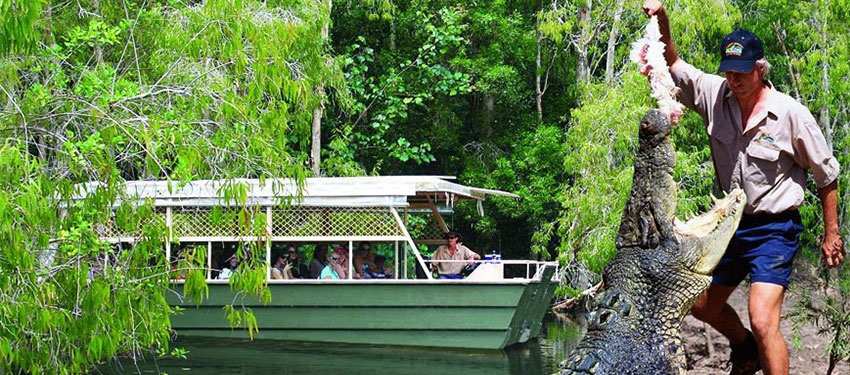 December 11, 2017
When planning a holiday in North Queensland, don't miss the opportunity to visit Hartley's Crocodile Adventures. This exciting park is situated between Cairns and Port Douglas, providing the perfect jumping-off point for excursions and activities throughout the region. It is, hands down, the best place to see crocodiles and other local flora and fauna. At Down Under Tours, we provide transportation to and from the park each day. Here's a look at what your day at Hartley's might entail.
Getting to Hartley's Crocodile Adventure
When you book a tour with us, we'll come and pick you up right from your accommodation. Whether you are coming from Cairns or Port Douglas, we'll take you along the scenic drive of Captain Cook Highway. You'll be treated to picturesque views of the coastline and the rainforest with plenty of photo opportunities along the way. We'll come back this way as well when we bring you back to your hotel in town.
Making Your Way through the Park
The park is located right in the heart of the area's woodlands and rainforest and incorporates more than 2,100 metres of timber boardwalks and pathways to help you discover all the park has to offer. In addition to crocodiles, you'll also have a chance to see tropical birds, reptiles, marsupials and even insects that are native to the region.
Entertainment Combined with Education
The park hosts a number of educational wildlife presentations throughout the day. Visit the Crocodile Attack Show to witness, in person, the vicious head shake and death roll that these massive creatures are known for. At the Snake Show, you'll learn all about some of the most venomous snakes in the world. If you're looking for something a bit tamer, try the Cassowary or Koala Feeding. As you watch the caretakers feed the animals, they'll teach you all about these unique creatures.
Don't forget to go on the Wetlands Cruise through Hartley's Lagoon. On this tour, you'll get to see saltwater crocodiles in their natural habitat in the Melaleuca wetlands. Deepen your knowledge of Australia's past and the evolution of its wildlife at Gondwana Gateway. Native Australians will be on -hand to answer your questions and tell you more about the history of the region. Finally, go on a tour of the Crocodile Farm to learn more about sustainability and conservation.
Other Attractions
Hartley's Crocodile Adventure provides everything you need for a complete day out. You can enjoy a delicious lunch or snack at Lilies Restaurant when you need a break from walking around the park. This dining establishment overlooks Hartley's Lagoon, so you'll still be able to see some of the wildlife to keep you and your family entertained while you dine.
No trip to the park would be complete without a visit to the Paperbark Gift Shop, where you'll find all sorts of crocodile-related gifts and souvenirs. Pick some up for yourselves and bring some for your friends back home. You can also have your photo taken with a crocodile or koala to commemorate your visit.
Contact Down Under Tours to Schedule Your Visit
The park has received exemplary reviews on TripAdvisor, earning an overall rating of 4.5 out of 5. As one reviewer commented, 'The crocs were amazing. You get so close to them in a totally safe environment'. The park is open every day of the year except Christmas, so you'll be able to visit whenever you like. At Down Under Tours, we do everything we can to ensure that you have the most memorable experience possible. Get in touch with us today to learn more about this exciting tour and to book your visit. Our team will be happy to answer any questions you have and help you plan out your itinerary for when you get to the park.