---
5 amazing wildlife destinations around the world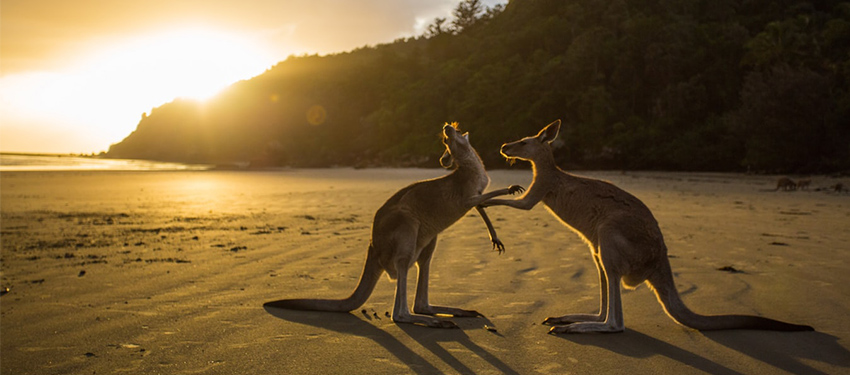 February 28, 2020
One of our favourite reasons to travel is to see amazing wildlife from around the world. Whether it's Kangaroos in Australia, Badgers in Britain or Dolphins in the Baltic, experiencing a new species for the first time is always a thrilling moment.
In a few unique places, however, the wildlife has got completely out of control (in the best of ways!). This week, we're exploring some of the world's craziest locations to see wildlife. These are the spots where nature has reasserted her dominance and the fauna flourishes in abundance. Get ready for an animal experience that will take your breath away.
Sweden
View this post on Instagram
Sweden has a wide variety of terrains from dense forests to alpine plains,  and is home to a range animals that call these areas home. Like most wild animals, a lot of these are not easy to find and depending on what you're looking to see, you will need to venture to different areas away from the cities. Don't go nosing about too far, though. Sweden is home to over 3000 brown bears, as well as wolves, moose, beavers, artic foxes, lynx, wolverines (yes, they're a real thing!) and other native mammals that have died out around the rest of Europe. You can visit Sweden on the fantastic Ultimate Scandi-Baltic tour from Busabout.
Cairns, Australia
View this post on Instagram
Hartley's Creek Crocodile Adventures is a 10-hectare wildlife sanctuary where the stars of the show are the hundreds of huge saltwater crocodiles that visitors are invited to get up close and personal with. Take a boat cruise on the preserved wetlands and try and spot the crocodiles lurking in the murky waters below and watch the feeding frenzy that takes place every mealtime – just make sure to keep your arms in the boat!
Rabbit Island, Japan
Ōkunoshima has a strange and fascinating history. This tiny island in the Sea of Japan was used as a chemical testing ground during World War Two. It's said that when the facility was abandoned, scientists left behind a few families of rabbits that were being used as test subjects. Fast forward a few decades and the rabbits have taken over, with nearly 1000 individuals roaming the isolated place. If you're a fan of these furry little monsters it's a must-visit.
Monkey Island, Puerto Rico
Any fans of classic PC gaming will have fond memories of this moniker. Little do they know that Monkey Island is actually a real place (minus the giant monkey head!). Isla de los Monos lies about a mile off the coast of Puerto Rico and is inhabited by 2,000 rhesus macaque monkeys. Scientists have used this remarkable place for research into monkeys for the last 80 years. It's something of a scientific marvel.
Kangaroo Island, South Australia
View this post on Instagram
Head Southwest off the coast of Adelaide and you'll probably run into Australia's third-largest island. Originally called Karta by the Aboriginal population, it has since earned a new moniker inspired by its wildlife. As the name suggests, if you want to see Australia's most famous marsupial it's the perfect place to visit. You'll find over 60,000 of them on Kangaroo Island, along with a huge array of other rare and beautiful animals. The island is also known for its amazing cave and rock formations. It's perfect hiking territory. 
Heligoland, Germany
The fascinating little island of Heligoland, not so far from Amsterdam, has a rich history. It has changed hands across Europe on a number of occasions and was even nearly destroyed in a bomb explosion. Today, however, the island is most known as a stopping point on the migration paths of many bird species across the North Sea. Every year, hundreds of thousands of birds stop here to rest and find food. It's become known as a bird watcher's paradise and even has its own Bird Observatory built to accommodate them. This one is definitely for you if you're looking to add a few species to your life list.
If you'd like to experience some of Australia's remarkable wildlife, make sure to take a close look at our Daintree Rainforest tours. You'll find species here that don't exist anywhere else in the whole world.