---
The World's Most Beautiful White Sand Beaches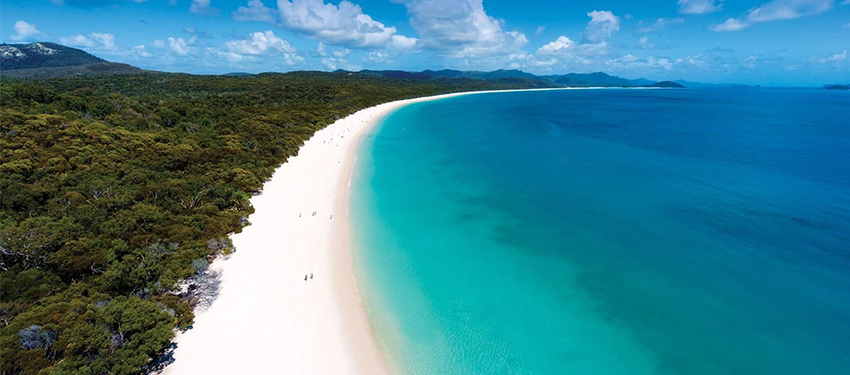 December 13, 2019
Of all of the beaches we have here on this sweet earth – pebble beaches, shell beaches and boulder beaches – there's always one kind that beats the rest; sandy beaches. More specifically, white sand beaches with the brightest blue and green seasides. 
There's something different about the white sand ones. It genuinely feels better between your toes and looks delightful in the sun. 
The beach is good for you, too. It's a chance to grab some vitamin D and improve your breathing as the air is so fresh and clean. What's more, vitamin D can be gained from just 20 or so minutes playing or sitting by the sea. It's as easy as 123! 
Though every country and continent differs in its quirks; the beach is a consistent for most allowing for it to be a popular pastime by so many. 
Dreaming of summer already (and it's only November!), we've decided to put together a list of the most beautiful white-sand beaches from across the world to get you in the holiday mood. 
Whitehaven Beach, Australia
Australia is world famous for its magnificent beaches but Whitehaven Beach is certainly a favourite. As the name suggestions, the sand is incredibly white and contrasting with the crystal clear waters of the Great Barrier Reef, you cannot find a more picturesque place to visit! Situated in the Whitsundays – a collection on islands on the Great Barrier Reef, this is a must visit for any beach lover exploring Australia!
View this post on Instagram
Phuket Island, Thailand
Southern Thailand's Phuket is a rainforested island that spells paradise. There's actually an island called that. With many different beaches such as Pa Tong, Karon and Kamala, there's lots to choose from, plus many island hopper excursions so you get your fill of the beaches and ocean that Thailand has to offer. Parties such as The Half Moon party are particularly popular. See you in Paradise! 
View this post on Instagram
Isle of Harris, Scotland
When people think of Scotland, we'll be the first to say it's not usual for the beaches. That said, the beaches are some of the most stunning in the world. On the Isle of Harris, the shimmering clear blue water and mountains in the backdrop will have you in awe. Then you can pop over to the Isle of Skye for more of the same scenes, with castles and legends to keep your short boat trip exciting as ever. 
View this post on Instagram
Crete, Greece 
In the land of ancient tales, Greece has a great amount of coastline with divine παραλίες (beaches). Balos beach looks like a painting with exotic blends of blue and white, just like their flag. In certain lagoons, Balos' sand has turned a hint of pink, too.
View this post on Instagram
Dakhla, Morocco
This super interesting spot is one of political nature as Dakhla is in the middle of a great debate whether its part of Morocco or an independent country. Sandy as ever, Morocco is a super hot destination right now. With deserts and beaches to spare, this remarkable one is an untouched velvet dream. 
View this post on Instagram
Los Angeles, USA
California, with its heat and relaxed way of life, has its fair share of beaches but not always white. This slight secret, Carmel City Beach can only be read in an American accent. This lush beauty is ideal for sunsets and sunrises.
View this post on Instagram