---
Palm Cove Magic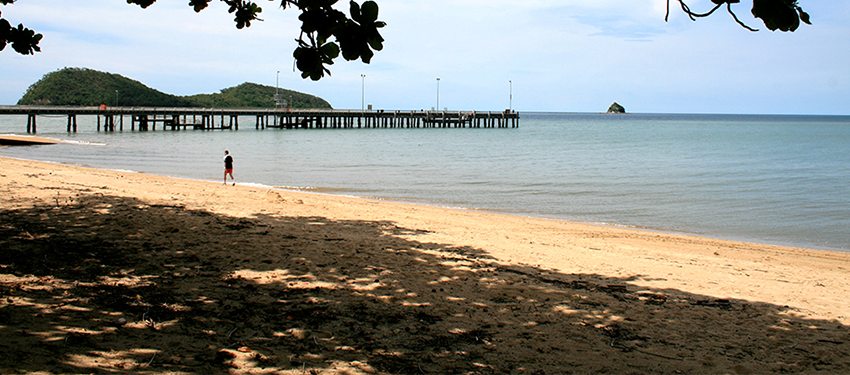 October 13, 2016
If you are looking for pure magic in peaceful, family friendly surrounds, then Palm Cove is the place to visit. With pristine white sandy beaches to play on, crystal clear azure water to splash in, plus lush emerald green rainforest to explore and enjoy only minutes from Cairns, this delightful little community is amazing. Cairns is perfectly positioned as a 'base' or starting point for exploring this wondrous region and with many guided day tours incorporating Palm cove in their itinerary, easy public transport or using your own vehicle, you can plan and plot your perfect holiday.
We all love the amazing natural wildlife that abounds in and around Cairns; unfortunately, the sighting of these elusive creatures can be somewhat frustrating. At the Hartley's Crocodile Adventures, you can appreciate and interact with local wildlife, plus many non-native animals in an environmentally friendly atmosphere. The reptile house has everything from green tree frogs to the extremely venomous inland taipan, with enclosures to accommodate easy and safe viewing of the American alligator, freshwater and estuarine crocodiles. Keep your eyes peeled for an exciting encounter with 'Sarge' – a whopping 5.1metre crocodile weighing in at an impressive 300kg! Seven specialist bird enclosures and exhibits are sure to please the novice bird watcher or the avid enthusiast. Magnificent mammals of all shapes, sizes and colours will entertain you for hours.
Palm cove jetty was originally built for locals and holiday makers as an arrival and departure point for local ferries, water craft etc. to transport passengers to and from the Great Barrier Reef. Due to the difficult tidal conditions, this was abandoned, which then left this extremely long, perfectly positioned fishing platform that can be utilised by the novice fisherman or the old hand alike. With fantastic fishing any time day or night, you will find locals and travellers alike catching mackerel, stripeys, whiting and grunter – even a 50 pounder has been caught off this very unique jetty.
For lots of fun in the sun, beach activities are perfect for that laid back relaxing day. It's inexpensive and is extremely entertaining for all the family, so kick back and relax, watch the scenery, or watch your fellow travellers having a ball. Pack a picnic lunch, read that special book, listen to your favourite music, throw a Frisbee, round up a few fellow holidaymakers for a game of beach cricket or football – the options are limitless.
If you have a more adventurous spirit and would like to try something a little more daring, Palm Cove has that covered too, with plenty of opportunity for on, and in the ocean activities such as kayaking, catamarans, peddle trikes, jet skiing, snorkelling, diving or fly boarding. Alternatively, relax and rejuvenate in 'the spa capital of Australia', with 11 luxurious spa and wellness clinics to select from. You can completely immerse yourself in the serene and tranquil ambience and be pampered by professional therapists amid the lush tropical rainforests.
Interested in some retail therapy? Saunter happily around quaint little souvenir shops where you can purchase that unique gift for that special someone, browse art galleries for that perfect painting or artefact, or scour boutique clothing stores that cater for men women and children. Stroll along the magnificent beach front esplanade at the end of  your unblemished day and the only decision left to make is whether to choose an Italian, Chinese, Indian, or a seafood restaurant for your next mouth-watering meal.