---
Healthy Must-Do Cafes in Cairns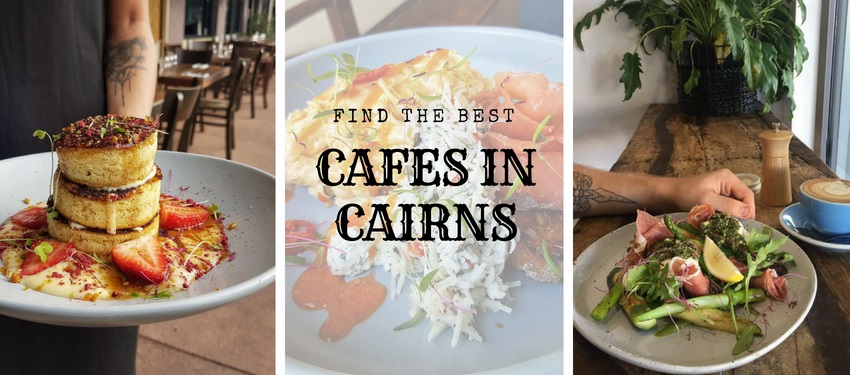 May 31, 2018
The Cairns foodie scene has been rapidly emerging over the last few years and there is definitely no stopping it. There are HEAPS of options to choose from, but when you're coming to visit Cairns it can be hard to find the best ones or know where to go, so we've asked our staff and put together some of our local favourites to choose from to make it a bit easier for you!
Cairns has a large health and fitness conscious population, so there are a lot of places to go with healthy options and variations available to suit different lifestyle and dietary requirements.
Check out the list below of our favourite local cafes for a delicious and insta-worthy meal!
Caffiend
5 / 72 Grafton Street, Cairns City
Open 7am-3pm Mon to Fri, 7:30am-3pm Sat & 8am-2pm Sun
A favourite with locals and visitors alike, Caffiend uses their own coffee roast (The Tattooed Sailor) and is some of the best in Cairns! A popular breakfast spot, Caffiend offers a unique and delicious menu with locally sourced and seasonal products. Check out the menu on their website, or find them on Instagram and Facebook for some photos to cause serious food envy!
Personal Fave: The Miso Scramble
NOA
1 Pyne Street, Edge Hill (Corner of Pyne & Collins)
Open daily: 7am-10pm
NOA is located in Edge Hill- about 5/10 minutes drive from Cairns CBD- and offers casual, relaxed all day dining with a unique and innovative menu. Their menu is seasonal and made with local ingredients so be sure to check their website for the latest updates. This is definitely one of Cairns' most instagrammed cafe / restaurants, so definitely have a browse of their feed if you're interested!
Fave: Breakfast- Bircher Muesli or one of their Breakfast Boards
Dinner- a mix of their small plates to share, or leave it to them to choose with their $49pp option
Perrotta's at the Gallery
38 Abbott Street, Cairns City (Corner of Abbott & Shields)
Open 7 Days:  6:30am-10pm
Another Cairns favourite, Perrotta's at the Gallery is open 6:30am til 10pm every day for breakfast, lunch and dinner. A great location in the middle of town, dine on the deck and enjoy the view and the food! With so many interesting options on the menu, Perrotta's is sure to please everyone! Check out their menu here and follow them on Facebook to see the latest!
Personal Fave: Chilli Salt Squid Salad or the burgers!
Ozmosis
1/116 Collins Avenue, Edge Hill
Open 6:30am-2pm Mon to Fri  &  7am-2pm Sat and Sun
Ozmosis located is a bit out of the city in Edge Hill – about a 5/10-minute drive from the city- but it is definitely worth it! It is a local favourite, so often a bit busy but always delicious. Their menu consists of a range of delicious classics and new, insta-worthy healthy options to suite their regular crowd. Find their latest updates on their Facebook page – click here!
Fave: Eggs Benedict
Bang & Grind
Shop 18, 14 Spence Street, Cairns City
Open 6am-3pm Mon to Fri, 6:30am-2:30pm Sat & 7:30am-12:30pm Sun
Open for breakfast and lunch daily with great coffee, Bang and Grind is a popular breakfast spot in Cairns. Offering the classics and some twists, Bang and Grind offers great food at a great price that is sure to satisfy. See their latest menu on their Facebook page.
Personal Fave: Bircher or Granola Muesli
Pantry 15
62 Grafton Street, Cairns City
Open 7am-5pm Mon to Fri, 7am-3pm Sat & 7am-2pm Sun
Pantry 15 is a health food café with a range of tasty options available for anyone! Their menu is 100% gluten free, and they also cater for all lifestyle and dietary requirements so there is something for everyone. Find out more about Pantry 15 and their latest menu on their Facebook Page – their food always looks amazing!
Fave: The Rostifarian brekky
Chill Café Palm Cove
41 Williams Esplanade, Palm Cove
Open daily: 6am til late
For a great little place in the Northern Beaches, be sure to stop by Chill Café in Palm Cove. With delicious and healthy food, aromatic coffee, fresh fruit juices and smoothies, lush salads and amazing cocktails, there is definitely something to suit every taste here. Plus, it is right opposite the beautiful Palm Cove beach so relax & enjoy the view! Check out their Breakfast, Lunch & Dinner menus here.
Fave: Chill's Tree Hugger
Little Loco
Shop 1, 53/57 Esplanade, Cairns City (on Shields St side of the building)?
Open daily: 6am-2pm
Little Loco is the city sister café to Ozmosis; just a little bit smaller and slightly different menu, but still a delicious option! Like Ozmosis, they also offer a lot of healthy menu items to choose from so if can't get out to Edge Hill, head here in the city. Keep up to date on their Facebook page!
Fave: Any of their Superfood bowls
Lillipad Cafe
72 Grafton Street, Cairns City
Open 7 Days: 7am-3pm Breakfast/Lunch & 5pm-9:30pm Dinner
Lillipad Café is a funky, hole-in-the-wall favourite for breakfast, lunch and now dinner. Offering a range of menu options catering to everyone including vegetarian and vegan meals, there is something to suit everyone here! The café itself is only small but the food is delicious with generous serving sizes. See their large menu on their website to see what they have to offer.