---
Four of the world's best snorkelling locations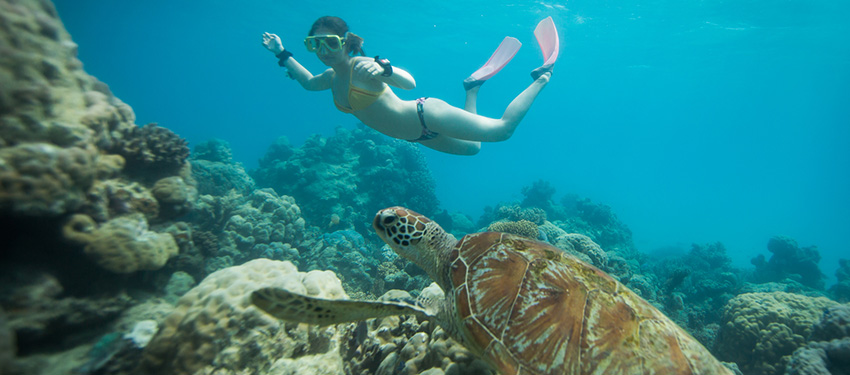 March 23, 2020
Images of clear azure waters teeming with marine life are the stuff dreams are made of. If you're anything like us, you dream of spending your days by the beach, dipping in and out of the swell to explore the underwater world.
That's why we've selected some of the world's best snorkelling locations. Some you will know already whilst others of you won't – including unmissable icons like Australia's world-famous Great Barrier Reef as well as offering some wonderful alternatives around the world.   
Great Barrier Reef, Australia
The planet's largest reef system, the Great Barrier Reef consists of almost 3,000 individual reefs and coral cays. Spread over 2,400km in the Pacific Ocean and unmatched in its beauty, it is the icon among all snorkelling experiences and a truly unmissable one. Home to an incredible variety of species, those lucky enough to venture into its depths might be able to spot clownfish (the friendly fish from Disney's Nemo), green turtles, sea horses and many other colourful and rare marine inhabitants. The Great Barrier Reef is on everyone's bucket list to visit!

Maya Bay, Koh Phi Phi
View this post on Instagram
You may recognise Maya Bay from the cult classic film The Beach starring Leonardo DiCaprio, which was filmed on the beach in 1999. This stunningly beautiful bay is the perfect place to snorkel. Below the surface of the crystal-clear water is a colourful underwater world of coral and exotic fish including clownfish, parrotfish and giant clams. When you're not snorkelling, relax on one of the silky soft white sand beaches located in the bay that are sheltered on three sides by towering limestone cliffs. Visit Koh Phi Phi – and other stunning islands such as Phuket and Koh Lanta – on the Thai Island Hopper Tour over at Busabout.
Baa Atoll, Maldives
View this post on Instagram
If spotting whale sharks and manta rays is high up your bucket list, the Maldives is where you should next book your trip to. A favourite for loved-up honeymooning couples, the islands and more specifically the UNESCO Biosphere Reserve named Baa Atoll are also a hotspot for adventurers keen to uncover the surrounding aquamarine waters' secrets. This parallel world is entirely enchanting in its own right, particularly in the period between May and November, when large populations of manta rays and sharks congregate at Hanifaru Bay to take advantage of the trapped zooplankton. Needless to say, this is an extraordinary and unforgettable experience.
Makarska, Croatia
View this post on Instagram
If you're looking for snorkelling experiences in Europe, Croatia's clear waters present a fantastic option. While the Adriatic Sea is no match for the Caribbean (to pretend otherwise would be misleading), its snorkelling potential is often underestimated. Croatia's Makarska coast offers some of Europe's finest snorkelling experiences: Its freshwater springing out of the seabed allow for some of Europe's best coral reef, with the Golden Sponge species native to the area. You might even spot a seahorse or two or an octopus while snorkelling!
Greek Islands, Greece
View this post on Instagram
The Greek Islands present another good opportunity for snorkelling aficionados with a love for warm Mediterranean waters. With a multitude of islands dotting the Greek coastline, the choice may seem overwhelming at first – but fear not, we've got you covered. Crete, and most particularly Elafonisi beach is Greece's best spot for snorkelling. Its waters are teeming with colourful marine life and thankfully are clear enough for you to easily be able to discover its underwater life. If you want to have an unforgettable snorkelling experience without breaking the bank, Elafonisi is the place to go.
If the Great Barrier Reef is on your bucket list, make sure to check out these Reef facts to fully appreciate the magnitude of this breathtaking site. Enjoy a spectacular view of the colourful reef systems, vivid tropical islands, and sun-kissed beaches, plus so much more!