---
FNQs Best Camping Spots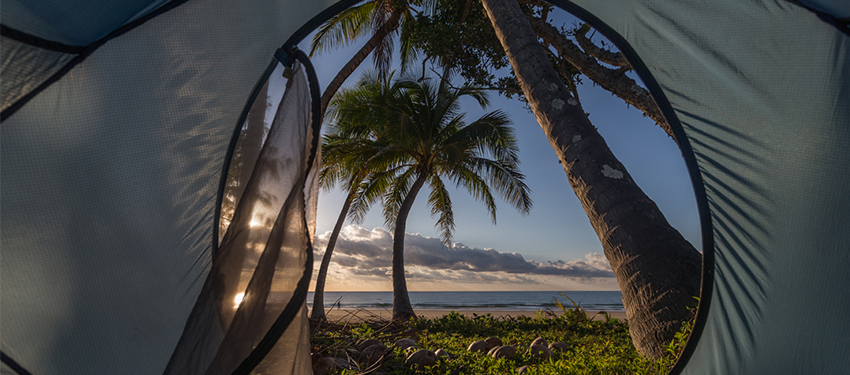 February 12, 2019
With its warm weather, gorgeous beaches and beautiful scenery, Far North Queensland is home to some of the best camping and caravanning Australia can offer.
If you're planning a trip up north and want to know where you'll find the best camping spots, here are a few favourites that are sure to please.
If you don't want to venture far
If you're looking for something within easy reach from Cairns, Palm Cove Holiday Park is an impressive beachside retreat only 30 minutes away where you'll be only meters from the beach and have access to all the spoils of Palm Cove. Set up with both caravan and camping sites, it's pet-friendly and all those little luxuries that give you more time to put your feet up.
For those who prefer their beachside escapes a little more secluded, the Bramston Beach Campground could be what you're after. You'll only have to travel about an hour south of Cairns to find this child and dog-friendly campground flanked by two National Parks. With uninterrupted ocean views, powered and unpowered sites and plenty of shade, it's the type of place that favourite childhood memories are made of.
If you prefer bush over beach, Davies Creek in Dinden National Park is probably more up your alley. A little over an hour from Cairns on the banks of the Davies Creek nestled among granite boulders, you can enjoy the refreshing open woodland surrounded by waterfalls, lookouts and hiking trails.
If you're craving a waterside retreat
A waterside location is an absolute must for many holiday-goers, but it can be hard to come by a good one that doesn't cost a fortune. If the idea of free waterside camping sounds appealing, head to Babinda—Babinda Boulders is great if you want to pitch a tent, or Babinda Rotary Park can accommodate caravans and large motorhomes.
If you're into water sports, head to Lake Tinaroo. Provided the water level isn't too low, you can boat, water ski, wakeboard, kayak or paddle board to your heart's content. There are a few campgrounds around the lake to choose from, or head to the Lake Tinaroo Holiday Park for a super family-friendly experience with all the facilities you could need.
Another favourite waterside retreat is the Goldsborough Valley in Wooroonooran National Park. Set yourself up at one of the 12 sites along the banks of the Mulgrave River and enjoy some swimming, fishing, mountain bike riding and hiking in the surrounding rainforest.
If you're a sucker for a beachfront location
If you want to wake up to the smell of an ocean breeze, King Reef Resort on Kurrimine Beach is well worth a visit. It's great if you want to drop a line in (take your pick from beach, estuary and reef fishing all within one kilometre of your site), go for a swim (there's a seasonal stinger net near the boat ramp about 300m away) or relax poolside. If you're there between February and May, make sure you also take a stroll through the beachfront twilight markets which run on the third Friday of each month.
Another beachfront favourite is the Cowley Beach Caravan Park which is renowned for its great local fishing spots, including coral trout or spanish mackerel around the Barnard Islands or mud crabs, mangrove jack and barra in Liverpool Creek. It's also close by to some fun local attractions like Paronella Park and the Mamu Tropical Skywalk.
If you want rainforest and reef
Everyone that heads to FNQ needs to experience the two things its best known for—the Daintree and the Great Barrier Reef. Depending on the type of camping or caravanning experience you're after, our two picks that serve up the best of both worlds are Noah Beach and Camp Tribulation Camping.
Noah Beach is ideal if you're after a chilled-out, beach-side location with plenty of shade. Only 50 meters from the beach, it's best suited to small campervans or to pitch a tent. Just keep in mind that no fires are allowed, so don't forget to bring a gas cooker with you.
Then of course there's Cape Tribulation Camping with its absolute beachfront location, on-site bar/restaurant and large selection of both powered and unpowered sites. You'll have to catch the Daintree Ferry to get there, which can comfortably carry caravans, trailers and boats.
If you're heading inland
While the coast gets the most attention in FNQ, there's also plenty on offer if you decide to head inland.
If you're heading west, pay a visit to the Undara Experience Outback Caravan Park and Camp Ground—the 190,000 year old lava tubes and the spectacular sunsets over the savannah grass plains are guaranteed to impress! They're set up for tents, small vehicles and camper trailers, but be mindful that camping and accommodation is closed for Green Season.
Then if you decide to head WAY west, Adels Grove Camping Park is a great spot,  10kms from the Lawn Hill Gorge in Boodjamulla National Park and 50kms from the World Heritage Riversleigh Fossil fields. You'll have the choice between two campgrounds each set in natural bushland, some with a fireplace and/or and a shared amenities block.
If you're looking for the perfect campervan or motorhome for your next Far North Queensland adventure, you can't go past Let's Go Motorhomes. Take your pick from our range of modern two and three berth Jayco campervans, or 2-6 berth Jayco motorhomes for hire. With competitive prices, best-in-class service and depots in Cairns and nine other locations around Australia, we'll help you explore Far North Queensland in luxury and comfort. Get an instant quote today.