---
Dive the Great Barrier Reef Year Round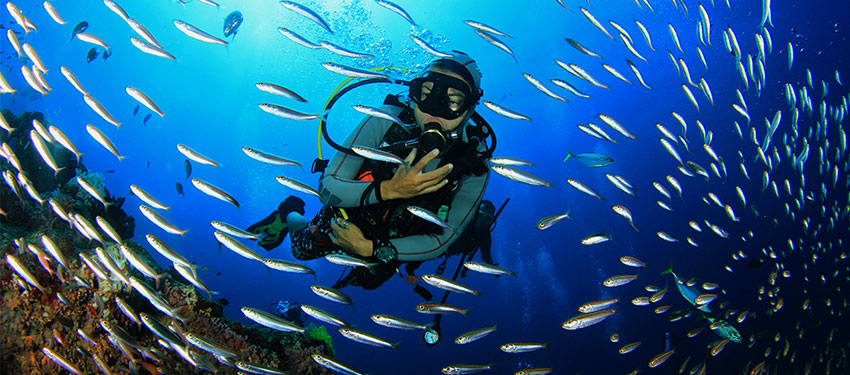 November 14, 2017
No matter which month you choose to dive the always gorgeous Great Barrier Reef, there are always things to see and experience. This natural wonder is teeming with stunning corals and breathtaking marine life, which you can experience year round.
January – January brings warm, summery weather and balmy 29 degree Celsius water temperatures. Full dive suits are optional, but lycra suits can help against jellyfish encounters. If you choose to dive, you can see jellyfish and salps, along with several spawning fish, including damsels, parrotfish, surgeons, and wrasse.
February – The last month of summer is a wet one but this shouldn't affect your dive conditions. You'll still dive in warm water. Both the Great Barrier Reef and the rainforest are alive during this month. You'll see plenty of turtles nesting and hatching. This draws sharks to the Reef. Many tour operators offer extended trips so you can get the full experience.
March – On the Great Barrier Reef, March is a very exciting month. You'll still get the warm waters of early fall. There is also less rainfall all around. You'll be able to see many juvenile fish like Harlequin Sweetlips. The Black Tipped Reef Sharks also give birth in March; they have between one and ten pups per season. 
April – April brings slightly cooler water temperatures but you won't need a full wetsuit just yet. The water is usually crystal clear and the Reef is alive. When you go diving look for nudibranchs, cowrie shells, juvenile glassies, juvenile anemone fish, and pipefish. The clear, blue water makes it easy to spot this marine life on your dive.
May – The start of the winter months brings cooler water temperatures. You may need a wetsuit to dive during May. You'll be able to see many migratory species of fish during this month. Look out for Lionfish, Queensland Grouper, and the stunning Gorgonian fans.
June – June brings the first month of winter. You'll experience water temperatures around 23 degrees Celsius. Every dive tour boat will offer wetsuits to accommodate for the cooler temperatures. During this month, you may find yourself watching a Dwarf Minke Whale. This is a huge draw for divers and it is the only time during the year you can swim with this marine creature.
July – Diving in July is to surround yourself with clear blue skies and cool, clear blue water. The visibility is usually excellent and the temperature hovers around 22 degrees Celsius. This is the month you may see Manta Rays along the Great Barrier Reef.
August – August is a windy month on the Great Barrier Reef, and tours may end up with delays due to Humpback Whale sightings. When you go diving, you can expect clear water, a large array of marine life, and you may even see Migaloo, the world's only all-white humpback whale.
September – If you choose to dive during September, you may experience 'glass out' conditions. Visibility during this month is usually excellent, and tours take you to these crystal clear dive hot spots. There are reef spots with 1,000-foot drop-offs, where hundreds of Reef Sharks make an appearance. You may also see turtles, Snappers, and Red Throat Emperors.
October – Spring has come to the Great Barrier Reef. With it comes warmer water temperatures and a lot of breeding activity for bird species. You might also see more turtles, as this is the start of their breeding season.
November – November brings warmer temperatures and it is the beginning of the coral spawning season. You can ditch the wetsuits as the water has warmed again. You'll see a host of small marine life, including Decorator Crabs and Slipper Lobsters.
December – Summer is here and the water temperature offers a retreat for divers trying to kick the summer heat. On your dive, you have a good chance of seeing many bright fish since December is the start of the breeding season. Be on the lookout for Anemone fish and Trigger fish.
No matter what month you choose to dive the Great Barrier Reef, you're in for an experience that you'll never forget. The breathtaking scenery and the broad range of marine life will delight you all year round.