---
Best time to visit Port Douglas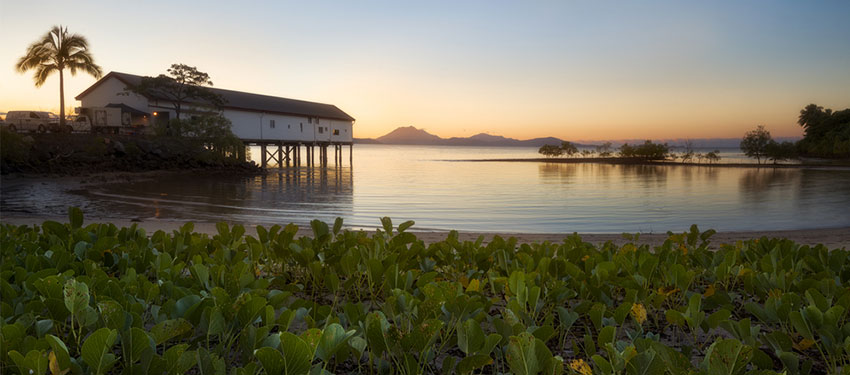 May 26, 2023
Port Douglas is an amazing place to visit at any time of the year. The beautiful harbour town is one hour north of Cairns, so it is well within the tropics. For travellers that haven't visited the tropics before, Port Douglas is a wonderful base to explore: miles of tropical sandy beaches, access to the Great Barrier Reef and close to pristine tropical rainforest.
Being a tropical location, Port Douglas essentially has two seasons: The wet and dry season. The wet season is from November to April. During this time you can expect average temperatures to be around 30 degrees Celsius, with an average monthly rainfall of 375mm. March is generally the wettest month. However, this rainfall can be a welcome release for those travellers that don't like the weather too humid, and the rainforest, in particular, looks incredible during this season – teeming with life, and with the waterfalls in full flow.
There isn't a time of year that would be unsuitable for a great vacation, but depending on your priorities, some months may be better than others. Try the month of May when Port Douglas is bursting with excitement as locals and visitors alike celebrate Carnivale!
The dry season is from March to October. Though cooler, temperatures are still warm with an average temperature between 20-25 degrees Celsius. There is far less rainfall during this season-some months as little as 25mm. In the sea, the water temperature will still be warm. The average temperature for June-August is a perfect 22 degrees Celsius.
Of course, some vacation activities are not weather dependent at all. Port Douglas is a luxury resort, and Macrossan Street, the main hub of the town, boasts a great variety of boutiques, restaurants, bars, galleries and designer shopping. At one end of the street is the picture-postcard beautiful Four Mile Beach, and at the other end is Anzac Park which hosts a wonderful local market every Sunday.
There isn't a time of year that would be unsuitable for a great vacation, but depending on your priorities, some months may be better than others.
There isn't a time of year that would be unsuitable for a great vacation, but depending on your priorities, some months may be better than others.
Great Barrier Reef
Port Douglas is a great base from which to explore the Great Barrier Reef – the world's largest and most breathtaking reef. From Port Douglas, you could explore the reef by boat or by helicopter and there are a number of tour companies that offer this service in the town. When you are out on the reef just make sure to keep an eye out in the hopes that you can find Nemo!
The reef can be visited at any time of year, but if you travel during the rainy season (November-April) be aware that adverse weather conditions (monsoon or storms) may mean that boat trips may be cancelled or delayed. A safer bet would be to visit during the dry season.
Daintree rainforest
The Daintree forest is a spectacular, untouched tropical rainforest 1 ½ hours north of Port Douglas. It covers over 1200 square kilometres and is a naturalist's paradise. It contains the largest range of plants and animals on earth, including giant reptiles (crocodiles and pythons), birds and marsupials. The rainforest is also the oldest in the world – over 135 million years old. Tours like Daintree Rainforest Tours will take you to this beautiful area in luxury air-conditioned comfort.
The Daintree rainforest may be visited at any time of year: May to September will be cooler, but the rainforest canopy tends to keep ground level surprisingly cool anyway. Visiting during the rainy season can be spectacular – nature at its wildest with raging waterfalls, hot tropical rain and an abundance of wildlife.
At the north of Daintree is Cape Tribulation: a beautiful headland full of eco-resorts, beaches and excellent access to the rainforest. Cape Tribulation was named by Captain Cook whose ship scraped a reef north-east of the Cape.
Wildlife

During the winter season (May-Sept) you may be lucky enough to see the extraordinary sight of the arrival of the migrating humpback whales.
From Sept to Dec, the annual coral spawning event takes place by a full moon, and tropical birds begin their elaborate mating displays. Down Under Tours offer lots of wildlife tour options.
Other considerations: the Box Jellyfish
During the rainy season, the notorious box jellyfish are present in the waters of Northern Queensland, so extra care should be taken in the water. Four Mile Beach in Port Douglas has a safety net in operation during this time, so is totally safe.
Port Douglas Weather in January
January is a wonderful time to explore Port Douglas, for although it's in the monsoon or wet season, locals prefer to call it the 'green season' – when the creeks and rivers are flowing crystal clear and the rainforest is at its luscious best. Temperatures range from 23.6 – 31.4 degrees Celsius, making January the hottest month of the year, with some cloud cover around for about half the month. With rain tending to fall during the late afternoon and overnight and plenty of sunshine hours, most activities can be fully enjoyed.
Port Douglas Weather in February
February in Port Douglas sees temperatures range between 23.7 – 31.1 degrees Celsius, with monsoonal rains in the afternoons and at night. With slightly more cloud cover than in January, the days are hot and the evenings warm. Swimming is popular all year round in crystal clear waters that showcase the best of the local marine life. February is also a wonderful time to visit the rainforest areas, when it is at its verdant best.
Port Douglas Weather in March
Slightly cooler than the previous months, March in Port Douglas averages between 23 – 30.5 degrees Celsius. Still in the monsoon or wet season, this is the ideal time to visit Kuranda, the Great Barrier Reef, ride the Skyrail Rainforest Cableway or visit the Daintree River, Mossman Gorge and Cape Tribulation in the heart of the Daintree Rainforest. With most rain falling late afternoon and overnight and light cloud cover for around two weeks of the month, March is the ideal time to fit in most sightseeing activities.
Port Douglas Weather in April
April is the beginning of the dry season in Port Douglas, with temperatures ranging between 21.6 – 29.2 degrees Celsius. Full days of sun with minimal cloud cover opens up opportunities to experience the full range of fun things to do on offer in Port Douglas. From bungy jumping to hot air ballooning, white water rafting to touring the Great Barrier Reef, the world is your oyster in Port Douglas in April. Full creeks, flowing rivers and the rainforest in its peak new growth period will have you savouring this beautiful area for months to come.
Port Douglas Weather in May
May sees Port Douglas cooling down a little. With winter just around the corner, the waters become cooler and the trade winds start moving up from the south. Snorkelers and divers may need to start using wetsuits. This transitional period in Port Douglas' weather also triggers movement of the many migratory species that spend some time of the year in the area. Temperatures range between 19.8 – 27.6 degrees Celsius, with some cloud cover for about 10 days of the month. And don't forget that Port Douglas Carnival is held in May!
Port Douglas Weather in June
During the first month of winter, water temperatures on the Great Barrier Reef sit at around 23 degrees Celsius, while air temperatures range between 17.7 – 25.9 degrees Celsius, with minimal cloud cover. Dwarf Minke whales are prevalent in the area until the end of July, surrounding boats and making this a popular time of year for diving and snorkelling. All dive tours provide wetsuits, so you'll be comfortable no matter where you choose to explore.
Port Douglas Weather in July
Port Douglas is beautiful in July with temperatures hovering in the mid-twenties and the water temperatures hovering between 22 and 25 degrees, Port Douglas should not be too hot or cold for anyone. Days in the Port Douglas mid-winter resemble a warm summer's day in Sydney or Melbourne. July marks the commencement of the Humpback whale season and you will almost certainly see these creatures in their natural environment if you take any Port Douglas cruise at this time.
Port Douglas Weather in August
A Port Douglas August will give you a winter month that is definitely different to the cold winter months of the Southern states. Plenty of sunshine and mild warm days will make your stay in Port Douglas pleasant and enjoyable. Barrier Reef cruises are in full swing at this time and visitors can experience the joys that this beautiful spot offers. August is also festival time in Port Douglas and there is plenty of free entertainment to be had, as well as many international performers and shows to see.
Port Douglas Weather in September
The Port Douglas weather is as near to perfect as you could wish in September. The days are pleasant without being too hot and the nights don't get too cold. The average temperatures for September in Port Douglas is approximately 28 degrees and there is very little rainfall. This is the perfect time to visit the Great Barrier Reef, see humpback whales or indulge in some sailing across the pristine waters around Port Douglas.
Port Douglas Weather in October
October in Port Douglas is a great time to visit as the month offers a pleasant atmosphere. The weather is perfect beach weather – not being excessively hot – and the water is fee of stingers at this time. Rain tends to fall overnight, making the days pleasant and enjoyable. Popular pastimes during this period include a visit to the small rainforest town of Kuranda, via the Kuranda Skyrail. Cruises to Green Island in particular are still popular at this time of year.
Port Douglas Weather in November
The wet season may be approaching, but in most years, Port Douglas experiences what is known locally as the 'build up' – with an increase in humidity and temperatures, but little rain. November is a great time to try the Kuranda Skyrail and Scenic Railway, which will give you a spectacular view of the Barron Falls. Cruises to Green Island & the Reef are still a great option at this time of year too.
Port Douglas Weather in December
The true summer period arrives in Port Douglas in December. Hot humid days and nights are the norm at this time. Port Douglas is very popular with divers at this time of year, with the crystal clear blue waters giving divers great views of the reef. Summer is breeding season for many reef fish and there is much activity under water. Some fish can become aggressive at this time, but dive boats supply divers with plenty of information about this.