---
Australian vs New Zealand Wildlife (who has the cuddliest critters)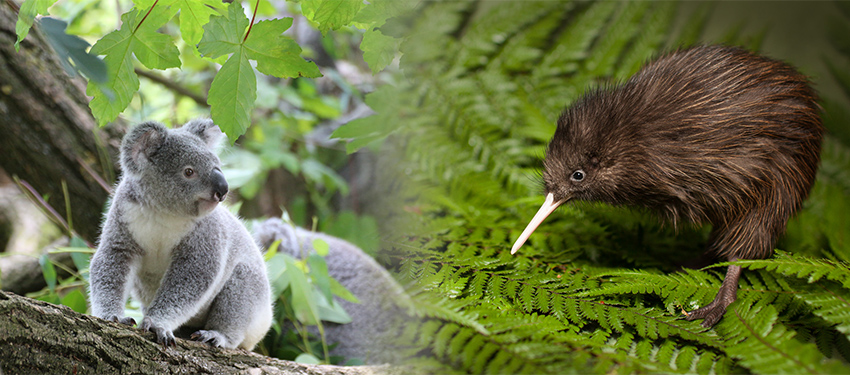 January 13, 2020
There are loads of reasons to visit both Australia and New Zealand – striking views, friendly faces and incredible local food. 
However, we believe one main attraction beats the rest: the wildlife! Both nations are home to some of the most fascinating creatures. Many of them are as cuddly as ever. Others…not so much.
If you're an animal fan, you'll love countdown of the continent's cuddliest critters. We've chosen our beloved animals from both to try and work out which country has the sweetest critters (it was impossible – they are all marvellous!). 
Let's start with Australia
Koala Bears
View this post on Instagram
Australia's native cutie is actually not a bear at all. When it gives birth, like a kangaroo it holds it's baby their pouches for six months. They live by and eat Eucalyptus leaves from trees almost exclusively. Ideally for them, they spend most of the time in a sleepy, relaxed state. You can see Koala Bears – and a host of other Australian animals – at Philip Island.

Kangaroos
View this post on Instagram
Kangaroos live up to 7-15 years and hop around only Australia. They have pouches for their 'joeys', or children. They live there for 6-10 months, depending on the Kangaroo type. There are several kinds of kangaroos such as Wallabies, Red and Grey Kangaroos. In Australia, there are approximately around 34.4 million of these graceful animals.
Wombat
View this post on Instagram
A wombat is another pouched animal that lives in burrows is a native to Aus. But, their pouches are backwards. To look at, they are a cross between a pig, a bear and a gopher. Though they bother many farmers because of their tunnelling, they are still pretty cute to us! Get up close and personal with an adorable wombat at Cradle Mountain in Tasmania.
Next Up,
New Zealand
Kiwi Bird
View this post on Instagram
Kiwis are birds that don't fly. They are the national animal of the country and also give New Zealanders their famous nickname. The name comes from Maori and means the 'shrill call of a male'. The birds are pretty unique – they are chicken-sized, nostrils at the tip of their beaks and super soft feathers.  You may even find Kiwis in nature parks such as Rainbow Springs.
Yellow-Eyed Penguin
View this post on Instagram
These peculiar animals are equally adorable. This penguin with yellow colour around their eyes are mainly found in South Island. They can be found by the sea often looking for food. There are no species quite like them. You can't miss out!
Sea Lion
View this post on Instagram
The NZ sealion, otherwise known as the 'hooker's sealion' are the rarest sea lions in the world. The name Hooker comes from Sir Joseph Hooker, a famous botanist that explored the islands. The sea lions are hefty creatures with the males weighing in at around 990 pounds. Yet the females are only around 370 pounds. They are often found on the sandy beaches of Southern New Zealand. 
Don't forget that wildlife isn't the only thing Australia has to offer. Explore our full range of wonderful tours today and book your next adventure to Cape Tribulation and the surrounding areas.