---
Bus Hire
Down Under Tours proudly upholds an unsurpassed reputation for excellence in catering to the wide and varying bus transport & hire requirements of our valued clients and customers. Our comprehensive bus hire services operate throughout Tropical North Queensland, Cape Tribulation, the Tablelands, and our professional staff and drivers are available to assist tailoring to suit your transport needs.
We continue to set the benchmark for first class customer service. Our people are acclaimed as experts in planning and coordination of groups and charters of small to large groups, school groups and more.
COVID19 Bus Hire & Transportation
Our management team here in Cairns is working closely with our global parent company to discuss and manage our response to COVID-19. We are guided by current advice issued by Australian Medical Authorities, Australian & Queensland Government and the World Health Organisation. We will continue to monitor the situation very closely and as always safety is our number one priority.
Our vehicles all feature timber floors and leather seats – there is no carpet, fabric seats or soft materials inside the vehicle and all curtains have been removed.
To minimise the spread of germs, our drivers are spraying high touch surfaces such as doors and handrails throughout the day with liquid sanitiser.  All coaches are equipped with alcohol-based hand sanitiser for use by passengers.
Our staff are available to discuss your bus hire and transport needs, and how we can assist to provide these services for you as you require them. Contact our team today to find out what we can do for you, or to get a quote.
Isolation Transfer Proposal
In response to isolation measures being undertaken to reduce the risk of spreading the COVID-19 virus we have implemented strict new policy and procedures, as well as specialised vehicles to deliver safe isolated transport options. Our Isuzu Able coaches feature separate drivers cabin to passenger bus module which is sealed to prevent cross contamination. These vehicles come with automatic door and offer increased seating space and leg room over other comparable models. All vehicles are GPS tracked and drivers undertake mandatory alcohol breath testing before the start of their shift. Below is a layout of our vehicles fitted for isolation transport.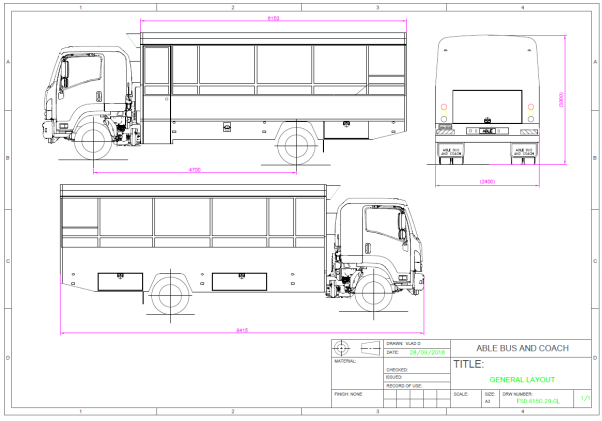 With GPS Tracking and Driver Drug & Alcohol Testing procedures in place, these are well suited to government, commercial and mining companies. Contact our team today to discuss this Isolation Transfer Service.
Our fleet of vehicles are cleaned to the highest standard. We engage specialist and professional contract cleaners to undertake our nightly coach cleaning on site at our Portsmith depot wash bay.
Please see below for a cleaning summary schedule by item:
EXTERIOR:
External sides of coaches are washed one side at a time, hosing each before starting on the next.
All glass surfaces squeegeed
Mudflaps are washed
Wheels and tyres are washed
Underneath wheel arch is sprayed to remove mud, dirt and road grime
Bugs, etc are removed from front bull bar
Windows – ensure all excess water is squeegeed off the windows (water stains glass)
INTERIOR:
Floor is vacuumed, mopped and sanitised
Wall and windows pillows are wiped down with a damp cloth, then sanitised
Seat frames are wiped down with damp cloth, then sanitised
Racks are cleaned out, wiped and sanitised
Rack area is wiped out with a damp cloth, then sanitised
Underneath racks are vacuumed, then sanitised
Every seat of the coach is vacuumed, wiped and sanitised
Inside windows are cleaned
Driver compartment is swept out, mopped and sanitised
Dashboard and side console is wiped down with damp cloth, then sanitised
Step entry is vacuumed, cleaned and sanitised
Air conditioner is wiped, air grill returned, then sanitised
Down Under Tours offers one of the most modern fleets in Australia.
To ensure maximum safety and efficiency of our fleet, Down Under Tours has installed advanced GPS Tracking Systems in all vehicles.
The features of the system include:
Mandatory pre-shift alcohol breath-testing
The ability to track vehicles real-time
Specific reporting of:

Hard Driving (braking, accelerating, cornering) as G-force sensors are fitted to all vehicles
Excessive idling

Immediate alert for accidents
Accurate tracking of distances travelled on each job
Accurate fuel consumption of each vehicle
Benchmark calibrations set for 'comfortable ride' and fuel efficiency
In addition to the Green efficiencies provided, we are also given:

Passenger satisfaction (time and comfort)
Driver education
Driver productivity
Cost reductions
Request a Quote
Ph: (07) 4047 9004
Or submit an enquiry below:
Isuzu Able Vehicles used for Isolation Transfers: