---
What's on in Cairns: May 2019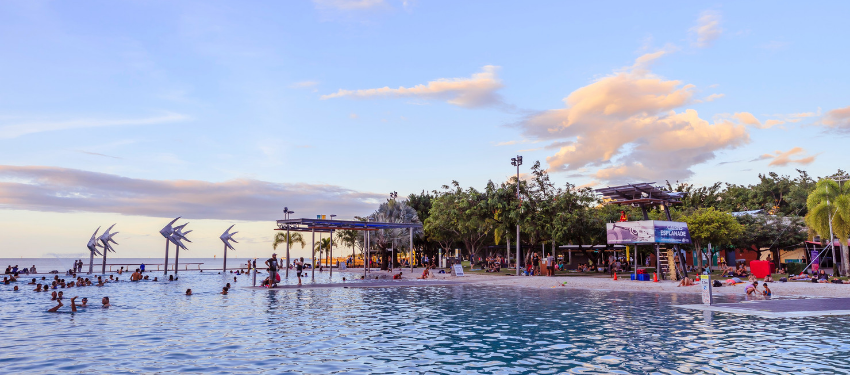 May 2, 2019
Cairns in May is one of the best times of the year – it's the perfect time in between Summer and Winter where the days are beautifully warm and clear and the night brings a comfortable cool. Average rainfall has a significant decrease from the previous few months and you'll enjoy more clear and sunny days for those looking to soak in some Vitamin D. Water temperatures do start to get a little cooler as we get closer to Winter but it's nice and refreshing once you take the plunge!
Check out some of the great events below that are happening in Cairns this month!
Markets:
Cairns Esplanade Markets: Every Saturday, 8am to 4pm – by the Esplanade Lagoon
Palm Cove Markets: Sunday 5th May, 8am to 2pm – Palm Cove Esplanade
Port Douglas Markets: Every Sunday, 8am to 1:30pm – Market Park, Port Douglas
Rusty's Markets: Every Friday & Saturday 5am to 6pm + Sunday 5am to 3pm – 57-89 Grafton St
Tank's Markets: Sunday 26th May
Cairns on a Fork- Fork on the Green – Fri 3 May
@ Cairns Golf Club
Relax on a Friday afternoon at this food truck event at Cairns Golf Club. Only $2 entry, come along with a blanket, grab a spot and enjoy some delicious food! Find out more info on their Facebook event by clicking here.
Cairns Craft Beer Festival – Sat 11 May
@ Hemingway's Brewery Cairns Wharf
Showcasing an array of fresh local brews from breweries throughout Far North Queensland, don't miss this is you're a lover of boutique beers. There will also be a special festival brew collaboratively crafted by a brewer from each participating establishment. For more info on the event, click here.
Cairns Children's Festival 2019 – 18 & 19 May
The Cairns Children's Festival is on again with a range of fun activities and showcases for children aged 12 and under. Putting the spotlight on Cairns' youngest creatives in a safe and fun environment to explore, create and imagine. Find out more about all the different activities by clicking here.
GBR Masters Games – 23 to 26 May
The fourth instalment of the Great Barrier Reef Master Games is on, with over 2000 athletes making their way from across Australia, Oceania, USA, UK and South East Asia to compete in 22 sports. Spectating is free for all so if you're keen to check out some of the action, click here to look through all the sports and find out when your favourites are on!
Port Douglas Carnivale – 24 to 26 May
Port Douglas Carnivale is celebrating it's 25 year anniversary this year and they have some big events planned to enjoy! With shows like Circus Wonderland and Debauched in the Wonderland Spiegeltent, a Seafood Extravaganza on Sunday afternoon – be sure to check out all the events and how to get tickets on their page by clicking here! The big event is the Saturday Night concert with Aussie favourites Eskimo Joe – make sure you book your tickets in advance before they sell out.