---
What's on in Cairns: March 2018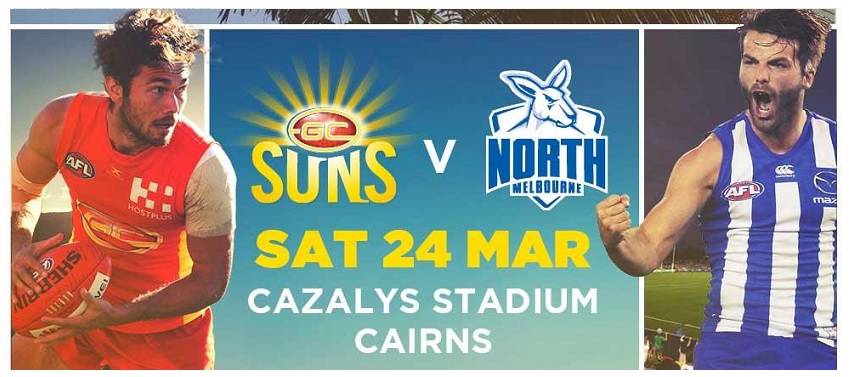 February 22, 2018
March is technically the start of Autumn in Australia; however, here in Cairns wet season is coming to a close and the weather still holds some tropical heat! Rain in Cairns isn't the usual dampener though; the waterfalls are flowing and the rainforest is a luscious green bringing the wildlife out of hiding.
March is the perfect time to see Cape Tribulation and The Daintree Rainforest at its finest. For a closer trip to the see the lush Rainforest, design your own day and head to Kuranda via the Skyrail & Kuranda Scenic Rail.
The city of Cairns is bustling during March lots of exciting events for both locals and tourists – we are even hosting a match for Round 1 of the AFL Premiership!
We've put together a list below of what's on in the Cairns region for March 2018 so you can plan your month.
Local Markets
Cairns Esplanade Markets – Every Saturday 8am-4pm near the Lagoon
Port Douglas Markets – Every Sunday 8am-1:30pm at Market Park
International Comedian Jimmy Carr – Thurs 1st March 2018
Bringing his 'The Best of, Ultimate, Gold, Greatest Hits World Tour' to Cairns, Jimmy Carr presents both new and his greatest material from his decade and a half career. If you don't have tickets yet, grab them now because there is only limited tickets left! Doors open 7pm @ Cairns Convention Centre.
Women In Song 2018 – Sat 10th March 2018
As a part of the Tanks' annual International Women's Day series, Women in Song 2018 showcases three talented women – Clairy Browne, Rochelle Pitt and Sue Ray.  Be sure to grab tickets here to experience the voices and music of these talented women. Doors open 6:30pm @ The Tanks (#5)
Cairns Dinner Theatre Comedy Week – 12th-17th March 2018
Cairns Dinner Theatre present their 2nd annual Comedy Week! With nightly comedy shows, there's multiple ticket options from single to the entire week so pick a night and head down for some laughs! Check out what's on each day here and get your tickets.
Tradies & Ladies Race Day – Sat 17th March 2018
A great day at Cannon Park Racecourse with TAB races, Fashions on the Field and entertainment for the kids. Entry is only $10, Children under 15yrs free – Tradies, just show your White Card for free entry! Click here for more info and tickets.
Queen's Baton Relay – Fri 15th – Sat 17th March 2018
With the Commonwealth Games hosted on the Gold Coast in April, the Queen's Baton is travelling through Cairns, Palm Cove and Port Douglas over the 15, 16th & 17th of March! Starting its journey from Buckingham Palace, the baton has been passed across the world on the way to kick off the Gold Coast Commonwealth Games on April 4th, 2018. 131 Baton Bearers help make journey from Palm Cove through to Edmonton.
There are community celebrations to greet the Baton at multiple locations:
Palm Cove @ 8:15am Friday 16th
Munro Martin Park, Cairns @ 5:30pm Fri 16th
Walker Road, Edmonton @ 11:10am Sat 17th
Check out the list of Baton Bearers and a map of the journey here!
International Comedian Jimeoin – Fri 23rd March 2018
Irish Comedian Jimeoin rose to fame in Australia and is bringing his 'The Ridiculous' show to Cairns on Friday 23rd of March 2018 at Brother's Leagues Club Cairns. Click here for tickets and more info.
AFL – GC Suns VS North Melbourne – Sat 24th March 2018
Cazalys Stadium is hosting its 8th Toyota AFL Premiership match on Saturday, 24th March 2018! We welcome back the Gold Coast Suns to Cairns for this Round 1 match to meet North Melbourne on their first trip to FNQ. Make sure to buy your tickets early as this event is always very popular!
Gates open at 4pm for the AFL Cairns Premiers Port Douglas VS AFL Townsville Premiers Hermit Park Tigers match. The main game kicks off at 6:25pm so get your tickets now from TicketDirect!