---
What's On In Cairns: July 2017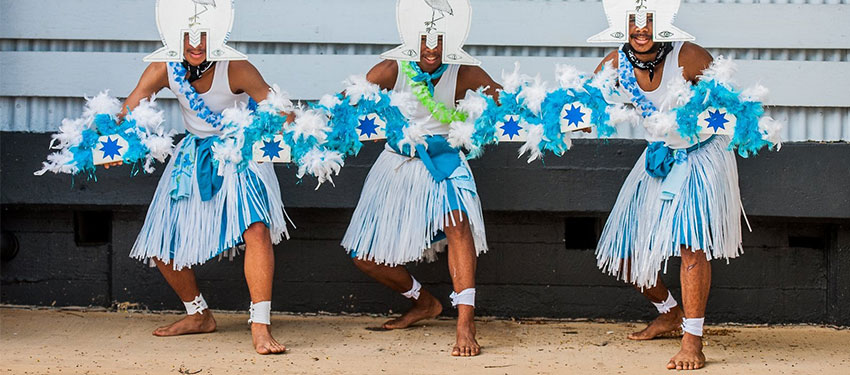 June 27, 2017
July in Cairns: What's On
Winter in Cairns, is surprisingly, the peak tourist season. The slightly cooler temperatures and lower humidity make it one of the most comfortable times of year to visit the tropical paradise. The water temperature rarely dips below a balmy 24°C, the days average around 24°C and a night colder than 17°C is rarer than a bunyip sighting. So with the weather so good, it makes sense that July is a busy month for Northern Queensland.
Cape York, Laura Aboriginal Dance Festival: 30 June–2 July
The 35th annual Laura Dance Festival is an incredible way to celebrate and learn more about the World's Oldest Living Culture. The festival is located at the Ang-Gnarra Festival grounds in Cape York, just past Laura, which is 330km north of Cairns and runs across 3 days from 30 June to 2 July.
Highlights are the aboriginal dance competition and a performance by singer-songwriter, and The Voice, finalist, Black Indie. The event is family friendly, drug and alcohol free. If Cape York is a bit far for you, there are plenty of other great indigenous experiences available closer to Cairns. Tickets range in price from $60 for an adult day pass to $150 for the weekend.
Three Marathons in Three Days: 7 July
The Three Marathons in Three days is the brain child of ultra-runner, Larry Lawson, who started the event in 2012.

It's a staged trail race set in the beautiful tropical rainforests of Far North Queensland, starting at the Atherton Tablelands and finishing in Cairns.

It's a popular event amongst ultra-runners and people looking to clock-up their marathons. Cost of entry varies from $45 to $285 depending on the package.
They recommend training for at least 16 weeks prior to the event. If you're not up to 3 in the 3 days then there's also the Cairns marathon, which is the same as day three of 3M3D.
Cairns Marathon: 9 July
The final leg of the Three Marathons in Three Days is also the Cairns marathon, which is a multi-terrain 42.2 km race starting on a dirt track through the eucalyptus rainforest of tropical North Queensland. The race then moves on to the bitumen roads of Cairns and finishes in a local park there. You'll need to be training for 12 weeks in advance and be prepared for a long down hill descent. Cost of entry is around $70-90. If you're not that excited by marathons, but would love the opportunity to explore some beautiful rainforest tracks, there are some great walks around as well.
Cairns Indigenous Art Fair: 14–16 July
An ethical art market, which attracts curators and collectors from around Australia and internationally. Opening night celebrations kick off Thursday 13 July. Most of the events at the festival are free.
South Sydney Rabbitohs V North Queensland Cowboys: 16 July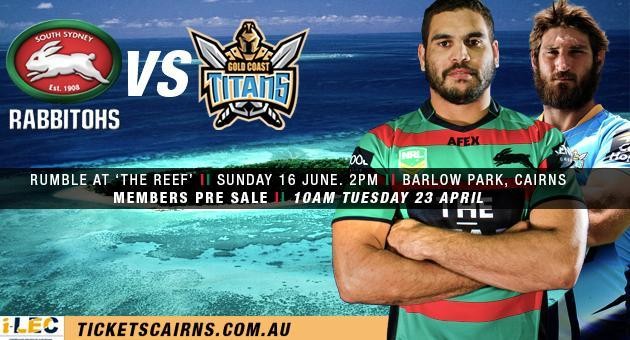 If you're a fan of the NRL, or even if you're not, then watch the Cowboys take on the Rabbitohs in what promises to be an unmissable game. If you know nothing of the NRL then come along to soak up some quintessential Aussie culture. Get yourself a pie and a tinny and cheer yourself hoarse. Tickets available here.
Western Bulldogs V Gold Coast Suns: 22 July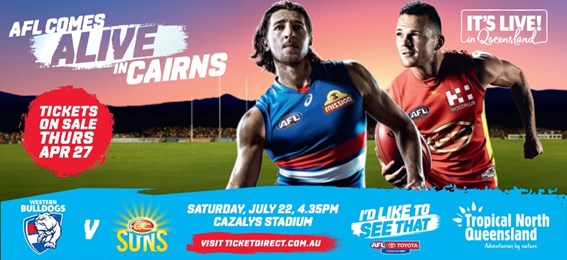 If the idea of watching burly blokes smashing into each other for a couple of hours doesn't interest you, then you might appreciate the beauty and artistry of Aussie rules football. Last year's grand final victors, the Western Bulldogs will be versing the Gold Coast Suns at Cazalys Stadium in Cairns. This game will also require a pie, a tinny and cheering yourself hoarse. Tickets available here.
If you're looking for more things to do in Cairns, like Cape Tribulation Tours, Kuranda Tours, or other Cairns Tours, just click to our home page to start finding your ultimate North Queensland adventure.