---
What's on in Cairns: August 2018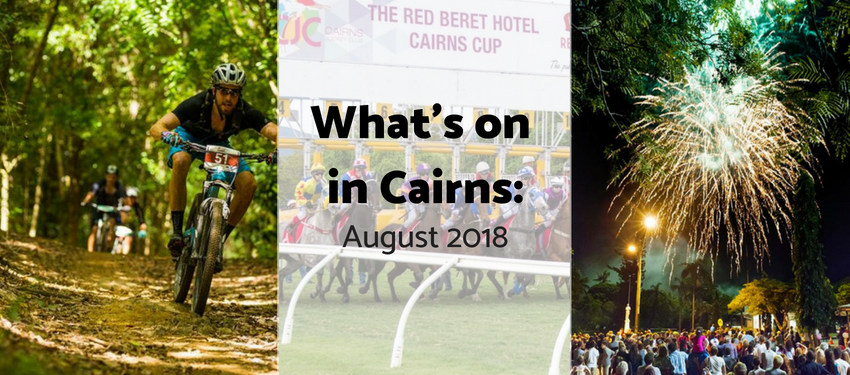 July 18, 2018
The last month of Winter is still perfect weather in Cairns! Days ranging from an average 17-26°c, and low rainfall over the month. The nights can feel a bit cool, but for most visitors, the temperature is perfect to escape cold winter back home.
August in still peak tourist season in Cairns, so town will be busy and bustling with tourists and locals. The best advice for anyone planning a trip is to book any accommodation and tours in advance during peak season so you don't miss out. Whilst tours can be busy, due to the low rainfall and nice temperatures it is the perfect time to visit the rainforest without having to deal with the typical heat and humidity that comes at other times of the year.
Click here to find out more about some of our fantastic rainforest day tours to the world's oldest surviving tropical rainforest, the Daintree – definitely one for the bucket-list. Or if you're limited for time, explore the rainforest closer to Cairns by visiting Kuranda via Skyrail Rainforest Cableway and Kuranda Scenic Rail.
Cairns Cup Carnival – Saturday 4th to 11th August
@ Cannon Park Racecourse
The Cairns Cup is one of the major social highlights of the year – with racing, fashion and great company. The Carnival hosts two race days:
Day 1: Saturday 4th August is Red Beret Hotel & IGA Leukaemia Cup – raising money for the Leukaemia Foundation.
Day 2: Saturday 11th August is Red Beret Hotel Cairns Cup Day
You can pre-purchase your tickets and packages online, or just pay at the gate on the day. Click here to find out more about tickets and packages.
Kasey Chambers – Thurs 9th August SOLD OUT
@ Tanks Art Centre Tank 5
Kasey Chambers brings her national tour to Cairns, celebrating the release of her new album 'Campfire'. This acoustic show features songs new and old; stories of places, people and cultures that have inspired Chambers throughout life. Unfortunately, the show SOLD OUT quickly so tickets are no longer available. Sign up to Ticketlink so you don't miss out on your favourite shows in future.
Reef to Reef Mountain Bike Stage Race – 9th to 12th August
Includes Triple R 1 day event
This stage race takes place over four days starting on the Coral Sea coast heading inland through tablelands, hinterlands, farmland, mountain bike parks and tropical rainforest and finishing at the coast again 185km later. Stage 1 is 20km at Smithfield, Stage 2 is 50km at Davies Creek, Stage 3 is 60km at Mount Molloy, and Stage 4 finishes the race with 55km from Wetherby Station to Port Douglas. Done solo or as a team, this also organises the Triple R 1 Day Mountain Bike Race which is either a 70km or 35km Race on Sunday 12th. Find out more on their website by clicking here.
Coppelia – Saturday 11th August
@ Munro Martin Parklands
Presented by The Australia Ballet Regional Tour and Cairns Regional Council, Coppélia is ballet's most charming comedy. A night of dance, laughter, love, colour and costume, get your tickets now by clicking here.
CARMA Multicultural Festival – Sat 18th August
@ Fogarty Park, Cairns Esplanade – 11am to 9:30pm
Cairns and Region Multicultural Association brings this years Cairns Multicultural Festival – a free day of fun for the whole family! Featuring international performers, international cuisine, fashion show, children's activities and more, head to Fogarty Park on Saturday 18th August to join in the fun and celebrate our unique community. Find out more information by clicking here to visit their Facebook page.
Salthouse Food & Wine Festival – Sat 19th August
@ Salthouse Restaurant
Back for its 4th year, Salthouse Restaurant & Bar will feature amazing wine, food, cocktails and live music and more to enjoy for the day. You can pre-purchase your tickets before the event; it will definitely be a great day out with friends. Click here to find out more information.
Cairns Festival – 24th August to 2nd September
@ various locations in Cairns
Back again for another year, the Cairns Festival will feature events across Cairns from August 24th to September 2nd. The main event is the Grand Parade and Fireworks on Saturday August 25th along the Cairns Esplanade. With free entertainment all day and finishing with fireworks at 7:30pm. Another popular even is Carnival on Collins on the final day, Sunday September 2nd. At the Tanks Art Centre and Cairns Botanic Gardens Precinct, head down and enjoy free entertainment, live music, art and craft workshops, market stalls and much more! Find out more on the website by clicking here.
The Simon & Garfunkel Story – Wed 29th August
@ Cairns Convention Centre
Returning to Australia after sell-out tours across USA, UK & Europe, The Simon & Garfunkel Story tells the tale of how two boys rose to become one of the world's most successful musical duo. Accompanied with original photographs and film footage, the tribute band performs all their greatest hits and more while taking you through stories of the journey. Find out more or get your tickets by clicking here.
TARGA Great Barrier Reef – 31st August to 2nd September
The first time a TARGA event will be held in QLD, this 3 day rally event features over 200km of exciting roads from Cairns to Port Douglas and the Atherton Tablelands. TARGA holds some of Australia's most popular rally events, and it's first visit to QLD is sure to be an attraction. Find out more information on their website by clicking here.