---
What's on in Cairns: April 2018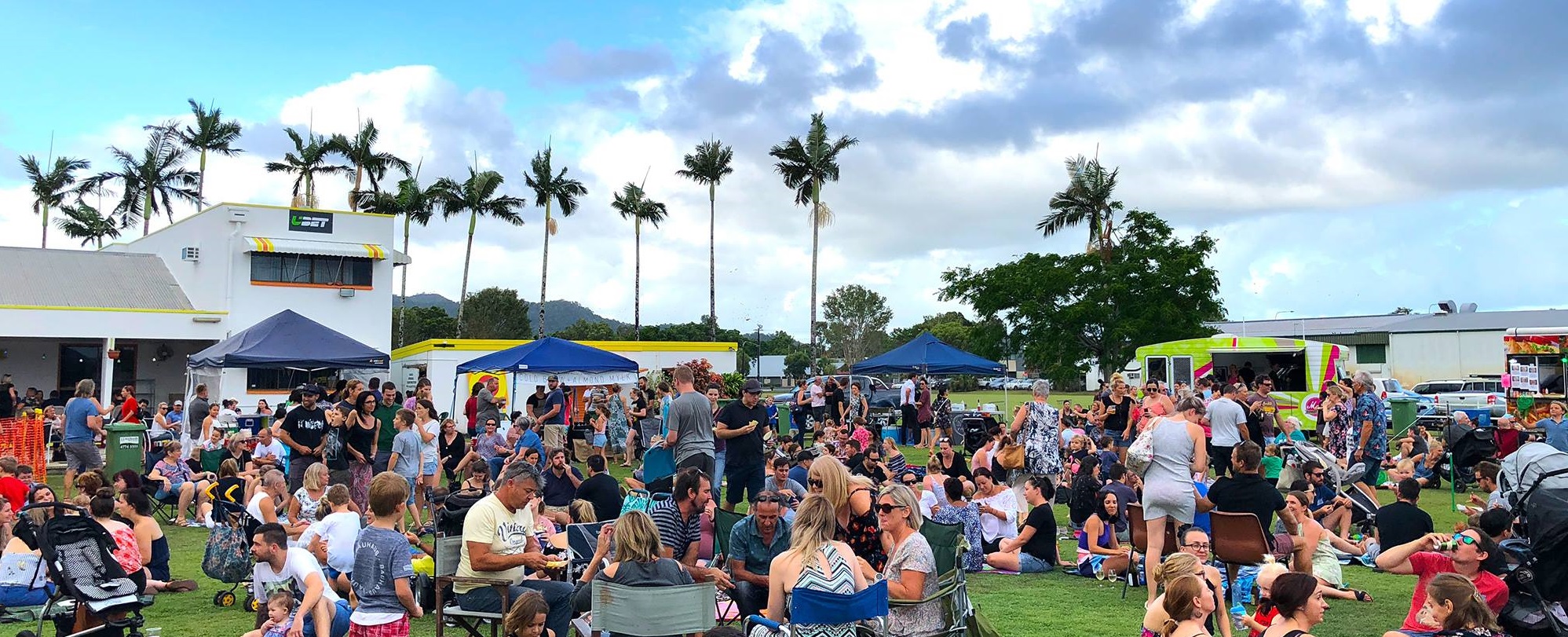 April 4, 2018
It's almost April and we are all hoping that a new month brings some drier weather with it! While always unpredictable, it seems April will bring a little more sunshine (or even just clouds) with it than March did which will be a relief for both locals and tourists! Temperatures usually range from around 21°c to 30°c.
April is a great time to see Cairns – getting a bit further from our wet season, the rainforest will still be beautiful and lush, and the Great Barrier Reef a perfect swimming temperature!
There is a lot happening this month in Cairns- check it all out below!
Local Markets
Tanks Art Centre Markets – Sunday 29th April 9am-2pm at The Tanks Art Centre & Cairns Botanical Gardens, Edge Hill
Cairns Esplanade Markets – Every Saturday 8am-4pm near the Lagoon, Cairns Esplanade
Port Douglas Markets – Every Sunday 8am-1:30pm at Market Park, Port Douglas
Festival 2018 – Wed 4th to Sun 15th April 2018
This 12 day arts and cultural festival will bring FREE live performances from Australian artists like Amy Shark, Kate Miller-Heidke and Cat Empire, as well are showcase local artists with displays,  interactive performances and much more! There are lots of free daily events so be sure to jump on the website to check out more and plan what you want to go and see!
Commonwealth Games Basketball Heats – Thurs 5th to Tues 10th April 2018
Cairns is lucky enough to be hosting 7 of the Basketball Heats for the 2018 Commonwealth Games! There are both Women's and Men's games to see so make sure to grab your tickets now, for this once in a lifetime chance! Tickets start at $30 for adults and $15 for children so choose which team you want to watch and book now! Find out all your information here; who's playing when and how to get tickets. Click the link and sort by City, select Cairns and see what is available.
Harlem Globetrotters – Thurs 19th April 2018
On their world tour, the Harlem Globetrotters come to Cairns to showcase their awesome basketball exhibition show! A guaranteed entertaining night that's perfect for the family; this is a must-see for any basketball fan! Their skills are simply awesome to watch.
Yungaburra Triathlon – Sat 21th & Sun 22nd April 2018
This is fourth annual Yungaburra Triathlon which raises money for the Soldier On Foundation in support of our returning service members. There are a number of courses, from the full Olympic Course to a Kid's Aquathon Course. If you're interested in participating, registration closes at midnight Friday April 13th, otherwise be sure to head out to cheer on our athletes on the days! Find out more info here!
The Smith Street Band – Sat 21st & Sun 22nd April 2018
With the first show on Saturday 21st selling out fast, the Smith Street Band have added a second show in Cairns on Sunday 22nd due to popular demand! Both at Edge Hill Tavern, Aussie band have found widespread success on the ARIA charts and hugely popular with Triple J listeners, just coming back from touring Europe and are off on their biggest Australian tour yet. This second show is sure to sell out too, so make sure to jump on to secure your last minute tickets!
Melbourne International Comedy Festival Roadshow – Thu 26th  to Sat 28th April 2018
Australia's largest comedy festival is packing up and hitting the road! With three nights of guaranteed laughs, the show features Australian and International comedians with stand-up, sketch, satire and much more. Tickets are available now, so click here to find out more!
Meet Eat Repeat 6 – Sat 28th April 2018
TropicNow's foodie festival, Meet Eat Repeat returns for it's 6th event full of great food, live music, cocktails and more! Just a gold coin donation; head down to the West Cairns Bowls Club on Saturday April 7th from 4pm – 8pm for some delicious food and great atmosphere! Be sure to check out their Facebook page for more info and to keep updating on which Food Vans will be there!