---
Things to do in Cairns for Kids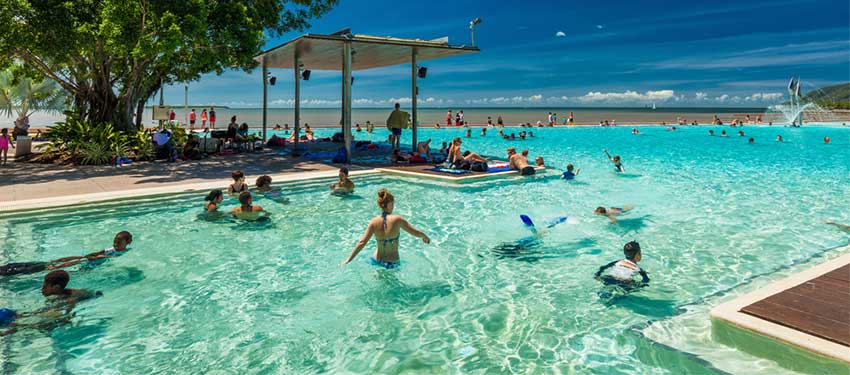 May 31, 2017
Fabulous Ways to Have Fun with Kids in Cairns
Cairns is full of fantastic family attractions no matter which way you turn. Activities range from educational to relaxing to breathtaking. There is something to please every age and interest. Whether you choose to map out your own fun in Tropical North Queensland or experience Cairns on a guided trip with Down Under Tours, we know you'll have an amazing visit!
Kuranda
Both the journey to reach Kuranda and a day spent in this dynamic, picturesque village in the Rainforest will delight both kids and adults. To reach this destination, you will be treated to magnificent views from the Kuranda Scenic Rail. As you soar over the treetops of the World Heritage protected rainforest on a glass-bottom gondola, be on the lookout for local wildlife in the lush foliage. Visitors who want to plan their own journey should check out Down Under Tours self-drive option, or join a Down Under Tours organised group with a driver and itinerary.
Kuranda is a hugely popular tourist destination, filled with beautiful nature and a lively arts scene. Aussie artisans display their wares in the Heritage Markets, which are a perfect place to pick up a crafty gift or souvenir. Kids love choosing their own boomerangs and handmade croc leather items! After you wander through the markets, head to one (or all!) of the fantastic wildlife attractions in Kuranda:
Birdworld
Birdworld features one of the most extensive collections of bird life in the world, with more than 75 species of international feathered friends. A replicated rainforest creates the zoo atmosphere, with blooming flowers and running waterfalls. Little kiddies will be in awe of the birds' bold and bright colours, especially when the friendly ones perch and coo on their arms.
The Australian Butterfly Sanctuary
More than 1500 tropical butterflies flutter around in this majestic picture of paradise. Lovely multi-coloured wings will dance around your family. If kiddies can stand still long enough, they may be rewarded with a butterfly landing delicately on their shoulder. Experienced guides offer informative tours all day long.
Koala Gardens
Kuranda's Koala Gardens are one of the few Queensland locations that allow you to hold a warm and fuzzy koala! Your children will be able to observe and cuddle with these Aussie mascots in their natural habitat. Despite the name of this park, there are also jumping wallabies and kangaroos, and crocodiles for up-close viewing and awesome photo ops!
Cairns Esplanade: Lagoon, Muddy's Playground & Skate Park
This coastline strip is lined with incredible activities for kids, mums, and dads.
Cairns Lagoon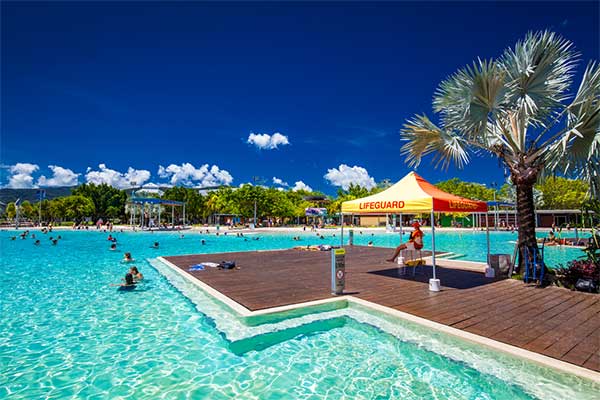 A huge man-made saltwater swimming area, the Cairns Lagoon has room for 1000 swimmers at a time. Underwater benches provide a great place to rest and cool off while gazing at the majestic mountain scenery. Soft and comfy grass surrounds the water, with picnic tables, public barbeques and shady Banyan trees. On the weekends, live bands blast a vibrant beat and inspire kids to dance. With free entrance admission, this site is popular among tourists and locals alike.
Muddy's Playground
Stroll a short way down the Esplanade boardwalk and you'll reach Muddy's Playground – one of the best playgrounds on the continent! Action-packed zones include a water park, playhouses, slides, storytelling areas, rope bridges and see-saws. The play units are arranged in three sections to target specific age groups, with tons for young kids to do. Parents can pull up a chair and refresh at the large café, which is located in the center of the park to keep an eye on the kids.
Cairns Skate Park
Set beside the Lagoon and overlooking the Coral Sea, the Cairns skatepark spans a whopping 2300 square meters! Open from dawn and lit until the midnight hours, this is the ultimate place for kids to long board, roller skate, or zip around on a scooter. There are many challenging courses and obstacles, such as clover bowls, moguls, cradles, and long runs with intersecting paths. If your children are less into wheels and more into using their feet, there's also an ambitious climbing wall nearby, next to the Cairns Base Hospital.
Daintree Rainforest
You will be enthralled by the Daintree Rainforest, known as the oldest rainforest on the planet. While you can visit this magnificent site on your own, local tour options can show you many additional wonders. A Down Under Tours River Cruise will highlight spectacular vistas, including the verdant Alexandra Range and the coral reef on Cape Tribulation's rainforest beach. On this river tour, you'll also be treated to a fresh tropical lunch as you relax beside a pristine rainforest creek.
Mossman Gorge
The best way to experience Daintree on foot starts with a visit to the Mossman Gorge Centre, a new eco-tourism site that will grant you a genuine Aboriginal experience. First, you will listen to enchanting Dreamtime legends from the Kuku Yalanji people – with tales of hidden rainforest secrets that captivate everyone. Afterwards, you will board a shuttle to begin your guided walk through the Gorge.
To get the most out of your time in Mossman Gorge, you can participate in the Down Under Tours Daintree Walkabout. During this Dreamtime Gorge Walk, experienced, indigenous guides will show you how to identify bush tucker sources, explain the meaning of cave paintings, and teach you about traditional uses of the plants. A day spent in the Daintree Rainforest will immerse you into Australia's natural treasures – and your whole family will develop a deep appreciation for the glorious and thriving rainforest wildlife.
Port Douglas

Port Douglas is a small peninsula encircled by sun-kissed beaches, tropical rainforests, and rippling streams. This historical town is a beloved vacation spot for Aussies and visitors from around the globe. It is fun for kids to walk along the marina and play in the sand. When hunger hits, the Port Douglas Wildlife Habitat offers Breakfast with the Birds or Lunch with the Lorikeets! This habitat boasts over 600 animals and more than 70 species of birds. You can interact with all the critters, as they live within large enclosures that people can walk through.
Extreme Aussie Adventures
Are your kids looking for more action? Jet Boating with Bad Fishy is the perfect choice for a wild, wet day. There is a good reason for the devilish grins painted on the hull of each boat! With hip music, roaring engines, and your family's shrieks as background noise, you will charge around the Trinity inlet and get soaked by the wet wilderness of Cairns. Be on the lookout for shipwrecks as you pass the mangroves.
Go Karting offers you a dry, yet just as thrilling, family experience. Open rain or shine, the Cairns Go Karting track is a fun way to let your kids zoom around and unleash energy.
While hot air ballooning may not be as energetic as jet boating or karting, it is just as electrifying! Direct transport from Cairns will take you to the pre-dawn (around 4:30 am) meeting point outside the Mareeba Heritage Museum and Information Centre. You will launch with the rising sun and float smoothly above bushland, creeks, residential suburbs, and rolling farmland. Watching the sun light up the sky has never been more magical!
Paronella Park
This memorable place will add an element of history to your Cairns visit. The architectural ruins of the Spanish Castillo are nestled within 13 acres of rainforest. Visitors are free to wander through the gardens and explore the intriguing castle ruins. Let your kids run ahead on the snaking paths and bridges, all of which give lovely glimpses of cascading waterfalls, Mena Creek and its crystal-clear waters.
Crocodile Adventure Park
People around the world associate Australia with crocodiles. No visit to Cairns is complete without coming face to face with one of the sharp-toothed icons. At Hartley's Crocodile Adventure Park, you can learn all about these dangerous reptiles, as well as witness a harrowing crocodile attack show. For kids who prefer tamer animals, there are also kangaroos, koalas, and a wetlands cruise.
Indoor Marketplaces
To escape indoors, pick up a bite to eat, and mingle with the locals, walk the stalls at Rusty's Market. This colourful marketplace features delicious and exotic produce, scrumptious baked goods, and many speciality items. If you're lucky, you can catch some live music while your kids devour snacks and you sip coffee. Open daily, Rusty's is the perfect place for a mid-afternoon pick-me-up.
In the evening, the Cairns Night Markets will make your children feel grown-up as they join the lively nightlife shopping and dining scene. As parents recline to enjoy a massage or foot spa, kids can pose for a caricature portrait or airbrush their own jewellery pendants for a custom-made souvenir. The food court seats 200, and while many Australian delights are on sale, there is also a diversity of ethnic fare, such as Italian pastas and Asian stir-fry.
Cairns features lush wildlife, dangerous creatures, swimming holes, feathered and fuzzy friends, wet and dry adventures, majestic scenery, enriching ecology, great food… the list is endless! Rest assured – no kid will ever complain "I'm bored" on a family trip to Cairns!
If you're looking for more things to do in Cairns, like Cape Tribulation Tours, Kuranda Tours, or other Cairns Tours, just click to our home page to start finding your ultimate North Queensland adventure.